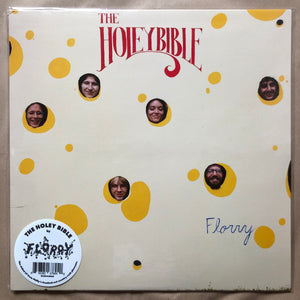 Florry
The Holey Bible: Vinyl LP
LPDLR045
Regular price
£24.00
£0.00
Unit price
per
Tax included.
Shipping
calculated at checkout.
Label: Dear Life Records
Release Date: 4th August
I absolutely love this record! Instantly charmed by its homespun rag tag country tonk that sounds like all the best country rock n roll moments from Exile on Main Street but also with a garage folk rock charm.
"All wonders come with time. Cheese, for example, tastes pretty good cold, but when you let it warm for about 45 minutes, its transcendent.. Conjuring up stories about feeling anywhere from pretty good to amazing can take a really long time, way longer than the average dairy treasures. For Francie Medosch, leader of rag tag Philly outfit Florry, the 11 songs on their Dear Life Records debut "The Holey Bible" urgently radiate that warm melty feeling, a place of hard-won optimism, and pull no punches in laying out the patient road it sometimes takes to get there.

Florry has been a long standing creative outlet in Medosch's young life, tracing a windy path through myriad creative and personal transitions, not least of which was the pandemic shutdown. Early covid-era found Francie back at her childhood home in rural PA, with just her mom, dog, cats, time to re-approach music, and Bluto the pig. After years of personal growth, and fronting a post-punk band (among other projects) to explore paths away from the more melancholic early Florry songs, Medosch realized that if she was going to keep writing songs, they couldn't preach anything other than hopeful abandon. For Medosch, there became no option in the face of despair except to meet it with bombastically positive force. The shift in satisfaction with her own work was earth-shaking.

"From Where You Are", "Cowgirl in a Ditch", "Big Fall", "Cowgirl Giving", and "Big Winter" come from the earliest phase of this vibe shift, when Francie was 19. The way these songs took shape proved that Medosch could value, and actually expect contentment, and that asking for it can sometimes mean as much as receiving it. These are songs written by an author who is learning to let go, and help give shape to an album that nourishes the listener as much as it demands attention.

Once live shows became possible in early 2021, Francie rebooted the Florry live band, featuring longtime collaborators Joey Sullivan (drums), John Murray (guitars), and Jared Radichel (bass). A chance re-encounter with an old friend folded in Victoria Rose (Brittle Brian, @) on vocals. The lineup delivered a barn-burning first show back ( "Live at Haus of Yarga" (DLR BTL 011). Fiddle player Will Henriksen was in the audience and promptly offered his services. Sam Silbert, Philly DIY's pedal steel man-about-town, was the last to be added and brought the signature sound of a half-working pedal steel from the 50s Sears catalogue.

"The Holey Bible" aspires to the special feeling of raucous intimacy achieved by the best records in the country canon, and strikes that rare balance between delivering direct and careful storytelling, and an invitation to a party. While Medosch's songwriting holds the space of charting rocky personal growth honestly, the chemistry and power of the live Florry band is nothing short of fireworks. That combination here suggests that the best path through a messy life is to simply vibe, as freely as possible, and wait for the cheese to melt so that you can finally start COOKIN'!"

---
Share this Product
---