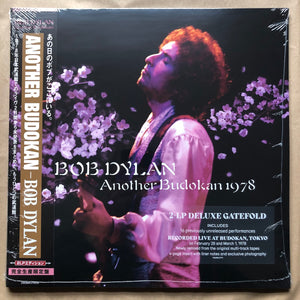 Bob Dylan
Another Budokan 1978: Double Vinyl LP
19658843791
Regular price
£35.00
£0.00
Unit price
per
Tax included.
Shipping
calculated at checkout.
Label: Columbia Records/Legacy Recordings
Release Date: 17th November
It's Bobby in the Budokan, one of this shopkeepers most reached for live Dylan records, so imagine how hyped I am (or anybody should be) to find there's more helpings of this prime-era of Zimmerman.
The tour launched in February 1978 with eleven historic performances: Dylan' first-ever concerts in Japan which included eight shows at the revered Nippon Budokan Hall in Tokyo. Two of the Budokan shows--February 28 and March 1, 1978--were recorded on 24-channel multi-track analog tape with 22 performances excerpted from those shows appearing on Bob Dylan At Budokan, a 2LP set first issued on Columbia Records as a Japan-only release in November 1978, followed by a global release in April 1979 in response to widespread demand. The Complete Budokan 1978 marks the first time any of Dylan's complete performances from his 1978 world tour have been officially available.
For his 1978 performances, Dylan (rhythm guitar, harmonica, vocals) led an ensemble featuring Billy Cross (lead guitar), Ian Wallace (drums), Alan Pasqua (keyboards), Rob Stoner (bass, vocals), Steven Soles (acoustic rhythm guitar, vocals), David Mansfield (pedal steel, violin, mandolin, guitar, dobro), Steve Douglas (saxophone, flute, recorder), Bobbye Hall (percussion), Helena Springs (vocals), Jo Ann Harris (vocals), and Debi Dye (vocals). The original Bob Dylan At Budokan album was produced by Don DeVito, who also helmed Dylan's Street-Legal, recorded and released during the 1978 world tour, featuring the same musicians.
According to Tetsuya Shiroki, co-producer of The Complete Budokan 1978, the newly restored, remixed and remastered recordings "…capture(s) two days of this history-making tour. Nothing has been removed or altered in any way."
Many individuals involved in the original Bob Dylan at Budokan album reunited for the new release. Under the supervision of Heckel Sugano, the CBS Sony product manager for Bob Dylan in Japan at the time, the engineer responsible for the 1978 recording has worked on the new 2023 remix using the original 24-channel multi-tapes, while the album cover showcases artwork by the same photographers as the original.
Chief engineer Tom Suzuki says, "We mixed the record with the keyword 'passion' in mind. The result is a mix that surpasses the original 1978 release, providing a crisper and clearer sound where each instrument and Bob Dylan's voice are distinctly audible."
Heckel Sugano says, "The completed album documents the remarkable sound of the legendary Budokan shows that are forever etched in history. We tried to faithfully reproduce the sound the Japanese audience would have heard in the concert hall.."
The 2LP Another Budokan 1978 features 16 previously unreleased tracks from the Budokan box.
Another Budokan 1978
2-LP with Gatefold Sleeve
All Tracks Previously Unreleased
Live at Nippon Budokan Hall, Tokyo, Japan - February 28, 1978
LP1 - Side A
1. A Hard Rain's A-Gonna Fall 
2. Repossession Blues
3. Ballad Of A Thin Man
4. To Ramona

LP1 - Side B
1. Like A Rolling Stone
2. Blowin' In The Wind
3. All Along The Watchtower
4. Tomorrow Is A Long Time

Live at Nippon Budokan Hall, Tokyo, Japan – March 1, 1978
LP2 - Side A
1. Love Her With A Feeling
2. I Threw It All Away
3. Girl From The North Country
4. One Of Us Must Know (Sooner Or Later)
LP2 - Side B
1. I Don't Believe You (She Acts Like We Never Have Met)
2. You're A Big Girl Now
3. The Man In Me
4. Forever Young

---
Share this Product
---