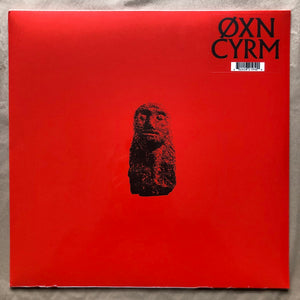 ØXN
CYRM: Vinyl LP
5821950
Regular price
£22.00
£0.00
Unit price
per
Tax included.
Shipping
calculated at checkout.
Label: Claddagh Records/UMR Ireland
Release Date: 27th October
An avant-garde Irish Folk supergroup featuring members of Lankum, Percolator and experimental folk artist Katie Kim. A wonderfully enveloping drone folk that's both enchanting and hypnotic, really pulls you into it's world.


ØXN [pron. ox-en] exist at the uncharted intersection of its constituent parts, melding Lankum's
experimental doom folk (Radie Peat), the motorik euphoria of Percolator (John 'Spud'
Murphy' & Eleanor Myler) & Katie Kim's glorious Lynchian meta-verse. They create a
peerless new sound which exists somewhere between the traditional, the future and the
eternal. Try to imagine the missing link between Enya, Ennio Morricone, Richard Dawson and Neu! And then add a pinch of something you never thought of and you'll start to have a sense of this gloriously unique sonic universe which ØXN inhabit

What began as a side project duo between Radie Peat & Katie Kim in 2018, blossomed into
a full-on multi-textured tapestry, with the addition of Myler & Murphy during lockdown. This resulted in one of the streaming highlights of the Covid era with an unforgettable live performance from a Martello tower in Dublin in conjunction with visual artist & Lankum
collaborator, Vicky Langan. Now they are set to release their highly anticipated debut
album CYRM.

CYRM [pron. sy-rum] was recorded by Murphy (Lankum/Black Midi/Junior Brother) at the Hellfire
Studios in just 5 dizzying days in 2022 and set for release on the relaunched & rejuvenated
Claddagh Records in October 2023.
---
Share this Product
---