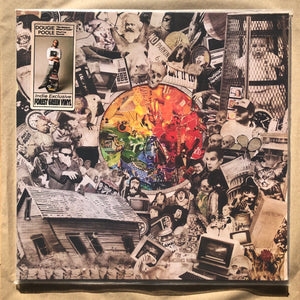 Dougie Poole
The Rainbow Wheel of Death: Signed Forest Green Vinyl LP
WCR134LP-C2
Regular price
£20.00
£0.00
Unit price
per
Tax included.
Shipping
calculated at checkout.
Pre-Order Item. Release Date Subject to Change.
Label: Wharf Cat Records
Release Date: 24th February
Dougie Poole can tell a story my friend like the best country troubadours he's got nothing but the truth to spill but the tales are less Americana and more coming of age stories of the 'High School Gym'. This really hits the sweet spot for folk who both love country and like country for people who don't normally like country.
For those who dig: Dick Stusso, Tim Hill, John Andrews, Daniel Romano, Arthur Russell's forays into country, MJ Lenderman...
 A country songwriter from Brooklyn's indie underground, Dougie Poole blurs the lines between genre and generation on his third solo album, 'The Rainbow Wheel of Death'. Rooted in sharp songwriting and the organic sounds of a live-in-the-studio band, it's a classic-sounding record for the modern world.
'The Rainbow Wheel of Death''s title nods to the colourful pinwheel that appears onscreen whenever a computer's application stalls. For Poole - who found himself working as a freelance computer programmer once the pandemic brought his touring schedule to a temporary halt in 2020 - it's also a reference to the holding pattern that's left much of society feeling stuck, unable to move ahead in an uncertain world. That feeling was pervasive when he began writing these nine songs, finishing the first handful of tracks in his New York City bedroom and wrapping up the songwriting process in the recording studio itself.
Once hailed as the 'patron saint of millennial malaise' for his sardonic wit and topical, tongue-in-cheek songwriting, Poole broadens his reach here. 'High School Gym' builds a bridge between 2020s lo-fi textures and 1980s pop vibes, while 'Must Be In Here Somewhere' - whose narrator sits at a lap top, searching through "every server burning in North Carolina" for a digital souvenir of a long-lost relationship - mixes modern concerns with classic country instrumentation.
If records like 2017's 'Wideass Highway' and 2020's breakthrough release, 'The Freelancer's Blues', told stories about uninspired Millennials languishing in dead end jobs and no good relationships, then 'The Rainbow Wheel of Death' focuses on more universal issues like mortality, love, and the passing of the time.
With 'The Rainbow Wheel of Death', Dougie Poole breathes new life into country music, retaining the acclaimed elements of his previous work - drum machines, synthesizers, and his deep-set voice - while pushing toward something warm, organic and prismatic.
---
Share this Product
---