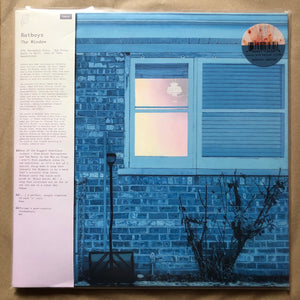 Ratboys
The Window: Fireworks Splatter Double Vinyl LP
LPTSR267C
Regular price
£28.00
£0.00
Unit price
per
Tax included.
Shipping
calculated at checkout.
Label: Topshelf Records
Release Date: 8th September
What is it about a record cover that is essentially just a picture of the average American home that you know it's always gonna bang? Well here's Ratboys continue the tradition left by Replacements and American Football with a collection indie alt-rock that strikes right to the heart of those who love their bands to operate at a cult fandom level. Urgent and fuzzy, super hooky, super human and just aout one of the best alt-rock records of the year.
For those who dig: Wednesday, Big Thief, Hop Along, Wilco, Remember Sports, Palehound, Soccer Mommy, Snail Mail, Bully, Swearin'...
Ratboys have been recording and releasing music for over a decade, but their newest album, The Window, marks the first time they'd ever traveled outside their home base of Chicago to make a record, journeying to the Hall of Justice Recording Studio in Seattle to work with producer Chris Walla
The sessions with Walla (Death Cab for Cutie, Tegan and Sara, Foxing) struck the perfect balance between preparation and experimentation, injecting new life into the band's style of soft-hearted Midwestern indie rock with an ever so subtle Americana twist. The solidified Ratboys lineup stretched and expanded their vision in the studio, adding unexpected elements and instruments like rototoms, talkboxes, and fiddles. The result is Ratboys' most sonically diverse record, shifting wildly from track to track. It flexes everything from fuzzy power pop choruses on "Crossed That Line" and "It's Alive!" to a warm country twang on "Morning Zoo" to mournful folk on the titular track. After more than ten years and four studio albums, The Window finally captures Ratboys as they were always meant to be heard--expansive while still intimate, audacious while still tender--the sound of four friends operating as a single, cohesive unit.
---
Share this Product
---