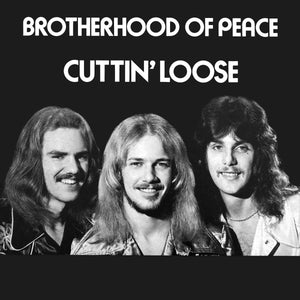 Brotherhood of Peace
Cuttin' Loose: Vinyl LP
EZRDR147LP
Regular price
£26.00
£0.00
Unit price
per
Tax included.
Shipping
calculated at checkout.
Pre-Order Item. Release Date Subject to Change.
Label: Riding Easy
Release Date: 29th September
Look at these lovely lads, you know they're responsible for some of the sweetest power pop southern rock soul melodies, whilst being deceptively heavy af. I reckon this record could make a Miller Light taste good.
For those who dig: yacht rocking, power popping, southern rock n roll boogie.
Brotherhood Of Peace (aka B.O.P.) brought the world some of the best breezy power pop, Southern rock and heavy boogie all packed into one brilliant album in 1976, the fittingly titled Cuttin' Loose. The album is a free-flowing nine song collection of genre blending would-be hits suited for both '70s AM gold and FM album rock that never received its proper due, until now. The album flows somewhat similar to the way Big Star combined heavy riffs with airy pop sweetness, but B.O.P. brought more of a blues rock groove to the proceedings, resulting in heavier undercurrents to songs with glowing three-part harmonies and impeccable power trio musicianship. By the mid-'70s, rock 'n' roll was truly anything goes. Experimentation, excess and inventing new genres was all the rage, and the trio of spritely young men—guitarist / vocalist Dennis Tolbert, bassist / vocalist Mike Arrington and drummer / vocalist Ronnie Smith—gamely tackled whatever sound they pleased. Fortunately, the band captured it all on their lone album, released on the small independent label Avanti Records in March 1976. The Mount Airy, North Carolina trio got its start as teens in 1969 as the backing band to a large 20-50 person traveling church choir called the New Americans. By 1970, the band was ready to move on to performing on their own. First as a sextet, the band soon trimmed down to a three-piece, working the local club circuit like madmen, sometimes playing three shows a day. At the height of their live tightness, B.O.P. recorded the album with local musicians Don Dixon and Robert Kirkland of the band Arrogance who worked at Charlotte recording studio Reflection Sound in October 1975. The band laid out the highlights of their live set in the studio, which ran the range of influences from The Raspberries to Deep Purple, Doobie Brothers to Nazareth, Lynyrd Skynyrd and Grand Funk. The initial pressing of 1000 copies was released in March 1976, but without major label machinery for retail distribution, radio and press, the album never took off. The band mostly sold them at live shows, via consignment at local stores and in limited distribution in the Southeastern region. However, to date, the record still occasionally pops up for sale online worldwide at exorbitant collectors' prices. Until now, finally getting a proper reissue via Riding Easy Records.
---
Share this Product
---