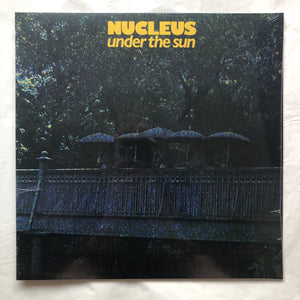 Nucleus
Under The Sun: Vinyl LP
BEWITH104LP
Regular price
£22.00
£0.00
Unit price
per
Tax included.
Shipping
calculated at checkout.
Label: Be With Records
Release Date: 16th September
Ian Carr's Nucleus's follow up to the legendary 'Roots' and one not to be overlooked, it hits straight away with the dark heavy jazz rock but also has time for a bit of a lighter cosmic folk jazz and pompous wig-out jams that you always yearn for with Nucleus.
For those who dig: Soft Machine, Frank Zappa, hard rock jazz fusion, records prime for sampling...
Format Notes: 2022 re-issue, 140g vinyl, gatefold sleeve, remastered from the original tapes.
Under The Sun is the follow-up to the astonishing Roots and contains yet more absolutely essential Nucleus material. Originally released on Vertigo in 1974, Under The Sun was never re-pressed and of course those original copies are now very tricky to score. Like all the Nucleus records, it's aged ridiculously well and this Be With re-issue, re-mastered from the original analogue tapes, shows off just why this deserves to be back in press.
Genius trumpeter and visionary composer Ian Carr was one of the most respected British musicians of his era. He was a true pioneer and saw the potential in fusing the worlds of jazz with rock, just as Miles Davis and The Tony Williams Lifetime did in the US. In late 1969, following the demise of the Rendell-Carr quintet, and tiring of British jazz, Carr assembled the legendary Nucleus. Regarding music as a continuous process, Nucleus refused to "recognise rigid boundaries" and worked on delivering what they saw as a "total musical experience". We can get behind that.
Under bandleader Carr, Nucleus existed as a fluid line-up of inventive, skilled musicians. This constant evolution and revolution was all part of the continuous musical exploration and discovery that took jazz to new levels. And the music has stayed relevant. To steal a line from a recent review of our re-issue of Roots, when it comes to anything Nucleus "it's basically already hip-hop".
Under The Sun opens with the crisp, medium tempo "In Procession". It's a typically inventive Carr track with layers of dramatic, riff-led themes and repeating brass blasts. Bryan Spring's "The Addison Trip" is a moody funk piece, with Kieran White guesting on wordless vocals. Roger Sutton contributes some fine bass guitar on this track, particularly the great solo at around the two minute mark. The excellently-named cool, jazzy ballad "Pastoral Graffiti" paints bucolic pictures with its mellow sonics, plaintive horns and Bob Bertles' flute.
Sutton's superb, bass-driven "New Life" brings a different dynamic. Horns, guitar and electric piano swirl over the head-nod bass motif and a killer Ken Shaw guitar solo. A false fade out halfway through brings in a new bass riff that's picked up by the whole ensemble as Carr wah-wah noodles over the top. It's full-on. The gorgeous, laidback "A Taste of Sarsaparilla" is exactly that - closing out the first side with a cute blast of what is to come over on the killer flip.
The whole of Under The Sun's second side is a suite of three "Themes" written by Ian Carr. The uptempo first theme "Sarsaparilla" is comfortably one of Nucleus' best. What would've been a cluttered mess in the hands of most is instead an effortless lesson in clarity and zing. Between Geoff Castle's electric piano solo, the relentless funky drumming and more wild wah-wah trumpet from Carr, Nucleus show you how it's done.
The languid groove of second theme "Feast Alfresco" is much more typical of "classic" Nucleus and sounds like something that might've been on Roots. A Bertles baritone solo and a guitar solo from Shaw weave around the core, serpentine brass theme.
The darker "Rites of Man", the third and final theme, is a slow build to a solid bass and electric piano riff, shored up by some tricky brass. Carr takes the theme even further and there's still plenty of room for soloing from all corners of the Nucleus. As usual, the dynamic Sutton/Spring, bass/drums duo is holding down the rhythm for the rest to jam around.
This Be With edition of Under The Sun has been re-mastered from the original Vertigo master tapes, Simon Francis' mastering working together with Pete Norman's cut to weave their usual magic with these wonderful recordings. The bleak, rain-dappled cover matches the melancholic vibe of the record and has been restored as the finishing touch to this long overdue re-issue.
* Tracklist:
A1 : In Procession (2:52)
A2 : The Addison Trip (3:53)
A3 : Pastoral Graffiti (3:28)
A4 : New Life (7:01)
A5 : A Taste Of Sarsaparilla (0:40)
B1 : Theme 1 - Sarsaparilla (6:45)
B2 : Theme 2 - Feast Alfresco (5:56)
B3 : Theme 3 - Rites Of Man (9:58)

---
Share this Product
---