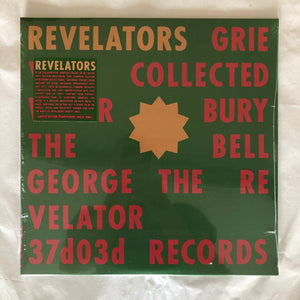 Revelators Sound System
George the Revelator: Transparent Green Vinyl LP
37d030lp-c2
Regular price
£25.00
£0.00
Unit price
per
Tax included.
Shipping
calculated at checkout.
Label: 37d03d
Release Date: 29th July
A surprising spiritual avant garde jazz record from MC Taylor of Hiss Golden Messenger and Spacebomb house bassist Cameron Ralston. No vocals just emotion, just statements and feelings on the current political climate through song. For us, one of the finest things MC Taylor has ever done and he's done some fine things.
For those who dig: inspiration for this album comes The Meters, post-Bitches Brew era Miles Davis, Can, Lee Scratch Perry and Alice Coltrane. 
REVELATORS SOUND SYSTEM is the collaborative musical project of MC Taylor (Hiss Golden Messenger) and Cameron Ralston. Recorded throughout 2020 and 2021, largely at Taylor's home in Durham, NC and Richmond, Virginia's Spacebomb studio, where Ralston serves as the house bassist, the album is a deep meditation on community that caroms from root-down avant-funk and spiritual groove to solitary cosmic minimalism and twinkling dubby ambience. Importantly—most importantly—Revelators is deeply emotional record, the running soundtrack to a world in confusion.

"Grieving," with its trunk-rattling double drums and searing electric Clavinet, imagines a rhythmic meeting of The Meters, post-Bitches Brew Miles and Can before dissolving into a smoky, time-smeared coda that is a direct descendent of Lee 'Scratch' Perry's headiest Black Ark productions, while "Collected Water" is a mournful, pointillistic improvisation between Taylor's drifting guitar loops, Ralston's loping double bass, and the melodic dancing between Daniel Clarke's chiming piano figures, J.C. Kuhl's insistent saxophone and Reggie Pace's subtle, circular percussion. "Bury the Bell" is a shimmering, Alice Coltrane-inspired piece for guitar, clarinet and orchestra that spins off into stardust. The album concludes with "George the Revelator," a lush devotional epic built atop the on-the-one drumming of J.T. Bates that shakes and rolls with psychic, psychedelic fervor.

Revelators is a testament to the telepathic and soulful musical interplay between Taylor and Ralston. "We only ever talked about what emotion we were going for," Ralston recalls. "We never talked about gear or fidelity." Taylor echoes this sentiment, elaborating, "This record is about grief. Grief, and whatever comes after. We were looking for a way to communicate that musically."


---
Share this Product
---