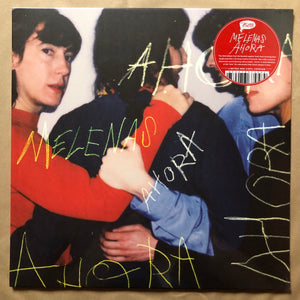 Melenas
Ahora: Red Vinyl LP
TIM183LPC1
Regular price
$31.00
$0.00
Unit price
per
Tax included.
Shipping
calculated at checkout.
Label: Trouble In Mind
Release Date: 26th October
Bubbling and pulsating garage rock with some DIY indie, Melenas third is their (to these ears) finest set yet, it's like a Euro pop art collective made a space station that runs on vintage synths. A bit Kraftwerky, a little Stereolab, plenty of Human League and Shop Assistants... what a mix!
'Ahora', the new record by Melenas is the exact opposite of "that difficult third album". While other bands might be suffering from a lack of inspiration typical of that delicate creative moment, our Spanish quartet reappears more invincible than ever, reassembled with a collection of dazzling songs, and revitalized with a splendid new palette of sounds that raises the following question: can you make jangle pop and garage rock with synthesizers? Listening to songs like 'K2' or 'Bang' the answer is a resounding yes, because the glorious throb of the analog keyboards that dominate 'Ahora' does not betray Melenas' sound, that bubbling vibration that the guitars provided until now, propelling their songs to the pop heaven. The new textures that vintage synths like the Korg Delta or the Yamaha PSR-36 provide maintain that immediacy, and also imprint fascinating new shades of color by stretching the band's sonic identity, transforming it with new nuances, from the crystalline pop of '1986' to the somber but moving undertones of 'Flor de la Frontera'.



Moreover, this new wealth of tonalities is in keeping
 

with an album in which Melenas have a lot to say: its title ("Now") aspires to vindicate, according to the band, "the importance of time, to reflect on how we live our everyday lives, with whom we share our moments and how we want (or don't want) to do it". An exploration of their own identity, of their relationships with others, and of the importance of " togetherness, shared feelings and shared action". Their intentions to "convey a moment of halting and reflecting on the present to know what we want to remain and what we need to leave behind" are brilliantly captured in verses such as "El tiempo que pasó ¿a quién se lo dí? / Desde hoy ganaré lo que perdí" (The time that passed, who did I give it to? / From today I will gain what I lost") or the irresistible "Lo bonito se acaba, me dijo mi ama / Este fuego calienta o te puede quemar" (What is beautiful always comes to an end, my mama told me / This fire can heat you up or burn you down).




At the same time, musically, the new sonic vibes symbolically delve deep into those themes: the concept of togetherness is conveyed in the vocal harmonies, more abundant and elaborate than ever. The concept of time, by means of some astounding sequencers, arpeggiators, and mechanical rhythms. Combined with Melenas' knack for pop, these elements turn many of these songs into an exciting mixture of darker, machine-like shades (the cold wave echoes of 'Flor de la Frontera', the kraut rhythm of 'Bang') with heavenly melodies. All this is woven together with a wealth of dazzling electronic arrangements (check the gorgeous Korg Monologue and Moog textures on '1.000 canciones'!), handcrafted to perfection but played with the energy of a live band, in a very post-punk conjunction of synthesizers with real bass and drums. The outcome includes such wonders as 'Dos pasajeros', 'Tú y yo', or that banger named '1986', which sounds like contemporary pop but is propelled by the same spirit with which new wave bands in the early 80s used analog synths as if they were garage-rock Farfisa organs. Or the beautiful 'Promises', with its synthesizer riff destined to become a neo-synth pop classic.



Ahora' is the confirmation of a wonderful anomaly that at this point should no longer surprise anyone: the fact that a Spanish band that writes and sings in Spanish is released in the US as part of the prestigious Trouble In Mind label. It also encompasses an enormous desire to 'seize the moment' at a time when Melenas are more in command of their creative powers than ever. Not so much to give a new twist to their music - which is still essentially rooted in a love of pop - but to invest their songs with a new electronic energy and vibe. With these ingredients, let's hope the future holds 1,000 more songs from Melenas.
---
Share this Product
---