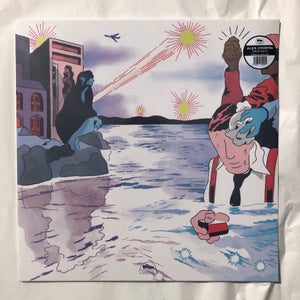 Alex Crispin
Alex Crispin: Vinyl LP
CBDL-0012
Regular price
$27.00
$0.00
Unit price
per
Tax included.
Shipping
calculated at checkout.
Label: Cobblers Records
Release Date: 1st July
Alex Crispin from psych prog outfit Diagonal goes sophistopop on his solo, not just that, he looks to a jazz folk funk inspired by Brazilian MPB, glacial 80s pop balladeering akin Blue Nile and the introduction of African Rhythms with clinical studio sheen like Paul Simon. What it is, is a progman gone pop.
For those who dig: Paul Simon, Blue Nile, Peter Gabriel, Vampire Weekend, Mark Hollis and Talk Talk...
He might be vocalist in bands such as Brighton-based progressive act Diagonal and psychedelic outfit Baron, but when it comes to his solo work Alex Crispin has typically worked in more wordless fields. Last year the songwriter, vocalist and producer released a triptych of ambient albums, consisting of two older albums in 'Idle Worship' and 'Open Submission', as well as new meditative work in 'Resubmergency'. On his new self-titled album, however, Crispin re-emerges from the cavernous soundscapes to – for the first time – put his vocal and song writing stamp on a record under his own name. "I personally find it easier to create more guarded, moody music, but I was at a point where I wanted to embrace a more universal, intimate and open side to what I might say" Crispin says. "Over time I'd got over certain blocks or preoccupations and so wanted to create something accessible and open hearted, which became a big driver for this record." Pointedly self-titled to reflect the newfound confidence in his song writing away from the collective of a band, the album's nine tracks are a warm embrace amidst troubled times. Musically there's nods to everything from tropicalia and Brazilian MPB, to 80's dusk pop balladeers The Blue Nile and Paul Simon's explorations into African music. Lyrically aware of the snowballing turbulence that surrounds us, Crispin in reaction tries to see hope and looks around at the relationships and connections in his life that provide him strength. He opens 'Invisible (To Us)' with the words "Before the world did end, there was just one moment when, everybody thought there might be time, to look around again, to laugh to cry to sing." Elsewhere, 'Listen & Learn' strikes at the heart of other underlying themes of the record, of the rarity of people opening up, taking on new ideas and allowing change. It's accompanied with a rich, maximal sound palette of flute and sax that play around each other as Crispin's vocal chips in with gentle encouragement. "One of the main markers on the album that I was aware of from the start, was to let myself express joy and positivity in the music" he says. "I have come to greatly prize the power of accessibility and universality over artistic 'coolness or trend', much in the same way that so often for me, the greatest pieces of art humans make nowadays are things like Pixar movies, with their combination of undeniable human talent and craft, alongside genuinely moving and accessible themes." Indeed, there is a cinematic feel to much of Crispin's own music, something brought over from his ambient creations – although his self-titled album possesses a panorama all of its own. Something like 'When I Reach The Ocean' has a hazy, pastoral feel to it like something out of the Canterbury Folk scene; there's space between the notes though, which in turn pushes the track out to a greater expanse than the comparatively soft-edged and modest sound palette used to create it. Similarly, the likes of 'Effert' revel in the space afforded to them - in the case of the aforementioned in particular, Crispin lets his voice take a back seat and creates an open wash of sound that he allows the guitar to probe and explore within. "In making any music I am definitely conscious of trying to put in only what is effective" Crispin says. "It is so easy to clutter tracks without realising it, just having the ability to add stuff can just become addictive as it's so easy to do with recording setups now." The album started coming together at the end of 2020, with Crispin getting most of the songs to a concrete state, before starting recording in May 2021 with Diagonal bandmates Luke Foster (drums) and Daniel Pomlett (Bass), who put down rhythm tracks. Jazz saxophonist Rob Milne then added parts which would become the glue that held the whole organic aesthetic of the album together. There's no doubt that lockdown played a part in proceedings, with a kind of forced focus resulting in a need for joyful expression. However, Crispin and his partner also suffered a bereavement which led to her travelling for large periods of time. "It was a very intense and difficult time and I think some of the intensity of emotion of that situation coupled with being alone must have inevitably contributed to the work itself" he says. It's perhaps why when even in moments of sheer happiness, such as the 'Sabu's' breezily euphoric opener, Crispin ponders: "No-one really cares beyond this moment, and even when it's here, it's never here". It's the first of several bittersweet moments on the record that give the album its weight. On this new LP, Crispin recognises that sadness doesn't mean throwing out hope, and that even in moments of joy there's still a path ahead of you to take.
---
Share this Product
---