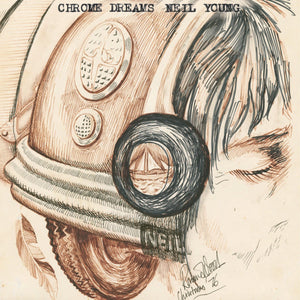 Neil Young
Chrome Dreams: Double Vinyl LP
0093624869375
Regular price
$50.00
$0.00
Unit price
per
Tax included.
Shipping
calculated at checkout.
Pre-Order Item. Release Date Subject to Change.
Label: Warner Records
Release Date: 11th August
Oh look another lost Neil Young record that would be the lynchpin of any lesser artists discography. The 1977 would-be classic is finally here and it's Neil in that fine thrashy chug rock mode, probably his best mode, at least one of 'em. 
'Chrome Dreams', one of Neil Young's most individual and powerful albums, was scheduled to be released in 1977, but as is often the case with Young, things change. And then change again.
With 'Chrome Dreams', it has been a long time coming to get to this final version of an album that includes some of rock's most unforgettable songs - and now it is set to be released on August 11 as Neil Young envisioned it. It's time for 'Chrome Dreams' to find its way into the world.
The music included on 'Chrome Dreams' is the debut release of the legendary lost 1977 album that features 12 classic Neil Young songs, including four originals. The 1974-1976 studio recordings include two previously unreleased versions, four tracks never before released on vinyl.
Side A
01 Pocahontas
02 Will To Love
03 Star Of Bethlehem

Side B
04 Like A Hurricane
05 Too Far Gone
06 Hold Back The Tears
07 Homegrown

Side C
08 Captain Kennedy
09 Stringman
10 Sedan Delivery
11 Powderfinger
12 Look Out For My Love

Side D
Etching
---
Share this Product
---