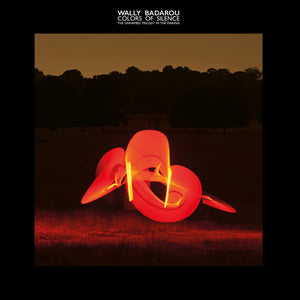 Wally Badarou
Colours of Silence: Vinyl LP
BEWITH120LP
Regular price
$32.00
$0.00
Unit price
per
Tax included.
Shipping
calculated at checkout.
Pre-Order Item. Release Date Subject to Change.
Label: Be With
Release Date: 17th November
A record like few we've had here before, a balearic new age dub with a space-age yoga on-board a UFO feel.
Synth pioneer and musical polymath, Wally Badarou is a genius. But you know that already. A vinyl version of his majestic Colors Of Silence has been craved by the Balearic cognoscenti ever since its low-key 2001 release. Indeed, when we first started work on Be With, we asked some pals with exquisite taste what their dream release would be. We asked Balearic legend Moonboots and, without hesitation, he said Colors Of Silence by Wally Badarou. We didn't know Wally had made this album. And most still don't. But that's about to change.
Colors Of Silence is ostensibly a new age album. As ever though, Wally's sophisticated synth textures and expressive keyboard runs are so full of character, so full of life, that this work of art transcends any easy genre categorisation. It's simply stunning, throughout. It sounds like A.r.t. Wilson or Suzanne Kraft, with traces of CFCF and Jonny Nash. But it was made a good decade earlier than the work of these modern giants. Sometimes, it doesn't seem far from some Larry Heard albums.
Island Records founder Chris Blackwell's friend Nathalie Delon asked Wally to provide music for the yoga DVD she was to release. Lack of time on both sides made them agree on using "quality demos" Wally had in his ideas bank. It's understandable why Colors Of Silence remains somewhat of a lost gem. As Wally explains: "Total lack of promotion made it an 'intimate' release, which was exactly what I was looking for: just a buzz-maker and time-buyer that would allow me to concentrate on the real thing as soon as I'd have time, which could also turn into a rare collecting item later, once the final versions made their way to success. You never know."
Over the years, Colors Of Silence has become a true cult record for the ambient/Balearic heads.
The beguiling but brief "Dance In The Dust" is the shuffling, hyper-percussive, hypnotic opener. It gives way to the deep serenity of "Amber Whispers". It's a gliding, divine, mini melodic masterpiece. It'll make you swoon in its extreme beauty. The bright and breezy "Where Were We" follows, a tropical, reggae-tinged bounce through the islands.
The uptempo groove is maintained on the keys-drizzled soca-funk of "The Lights Of Kinshasa" before Side A is rounded out with "Pictures Of You". It starts with stately, melancholic, unadorned piano and this alone would make for a beautiful song. But Wally always gives us that bit extra and he effortlessly introduces warm, dreamy pads and minimal, slo-mo percussion to augment a frankly stunning piece of work.
Ushering in Side B, Wally's mesmeric piano playing is to the fore again, in the intro to uber-chilled "Serendipity For Two". The playing becomes more mellifluous as the track progresses and adds warmth through exotic percussion, woodwind, sweeping synths and digi-drums. It has echoes of, er, Echoes. It segues seamlessly into the more propulsive, wavy "Smiles By The Millions". If you're not nodding and grinning along widely to the gently throbbing bassline underpinning this, we can't help you. The meditative "Higher Still" follows, cinematic in feel and ever so slightly sinister with the strings. It sounds particularly Badalamenti-esque, if you ask us.
That unmistakable, almost peculiar Badarou funk - so lyrical, so texturally rich and so rhythmically spacious - is all over "Oriental". Next up, "Days To Wonder" brings the serenity back, insistent yet melodic keys, as if played in a place of worship, coupled with birdsong, conjure a kind of instant nostalgia for halcyon days of youth. The contemplative "Dawn Of Europa" is a sombre, beatless, ambient journey whilst the glorious, too-brief "Crystal Falls" features soft percussion and sparkle before fully glistening with some gentle head-nod beats. Wally brings this incredible collection to a mellow, tender close with the graceful "Purple Lines".
There can be few artists more under-appreciated given their vast influence than Wally Badarou. His solo work practically defined the sound of the Balearic DJs of the 1980s, and thus the more sophisticated sound of dance culture thereafter. A synth specialist, Badarou was the long-time associate of Level 42. He was one of the Compass Point All Stars (with Sly and Robbie, Barry Reynolds, Mikey Chung and Uziah "Sticky" Thompson), the in-house recording team of Compass Point Studios responsible for a series of albums in the 1980s recorded by Grace Jones, Tom Tom Club, Mick Jagger, Black Uhuru, Gwen Guthrie, Jimmy Cliff and Gregory Isaacs. Badarou's keyboard playing could also be heard on albums by Robert Palmer, Marianne Faithfull, Herbie Hancock, M (Pop Muzik), Talking Heads, Manu Dibango and Miriam Makeba. He also produced Fela Kuti. Phew!
Meticulously remastered and cut by both Simon Francis and Cicely Balston respectively, it has been pressed to the highest possibly quality at Record Industry in Holland. Special thanks must go to Apiento from Test Pressing who first introduced us to Wally and facilitated all those early zoom meetings. It couldn't have happened without his help. Not least on pulling the art together, too, which features striking original photography by Mads Perch. Benji Roebuck of Roebuck Press did his thing brilliantly in art working the whole package to completion. All in all: essential.
---
Share this Product
---