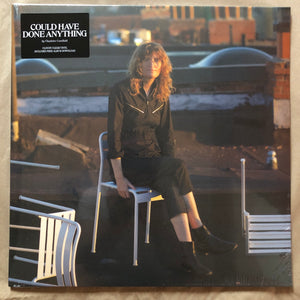 Charlotte Cornfield
Could Have Done Anything: Cloudy Clear Vinyl LP
LPDDW090C
Regular price
$31.00
$0.00
Unit price
per
Tax included.
Shipping
calculated at checkout.
Label: Double Double Whammy
Release Date: 26th May
Charlotte Cornfield is dead good at songs, dunno what else to say really? They make me feel nice, it's warm fuzzy inside music, it sticks to my bones and heart.
For those who dig: Tom Petty, The Weather Station, Evan Dando, Sun June, Jess Williamson, Jenny Lewis...
For Toronto, ON's Charlotte Cornfield, 2021 was a year of massive growth - Her critically acclaimed full-length album, Highs in the Minuses, was heralded as her best work yet, with Rolling Stone declaring her "Canada's best-kept secret" and The Alternative calling it "one of the year's best records"
The album showcased Cornfield's knack for crafting deeply personal songs with an observational tone and witty lyric delivery. She took these heartbreakingly relatable songs on the road, playing numerous shows & festivals across North America and Europe, including opening for Pedro The Lion, Stars, Sarah Harmer and others.
On Cornfield's new album, Could Have Done Anything, she teamed up with producer and Bonny Light Horseman member, Josh Kaufman in Upstate New York, first at the stained-glass-tinted Dreamland Recording Studios, then at the nearby Isokon Studio, run by engineer D. James Goodwin (Kevin Morby, Whitney) and his assistant, Gillian Pelkonen. Kaufman and Cornfield played every instrument themselves, channeling the energy of her favorite classic records, from Elliott Smith's Figure 8 and Jeff Buckley's Grace to Neil Young's Harvest -- albums where the listener is simply carried by the songs, and their musicians' beautiful playing. Standouts like "You And Me" highlight intimacy and absence, while "Gentle Like The Drugs" captures memories from Cornfield's spring 2022 tour with Pedro the Lion - her first time seeing sunsets in Arizona.
---
Share this Product
---