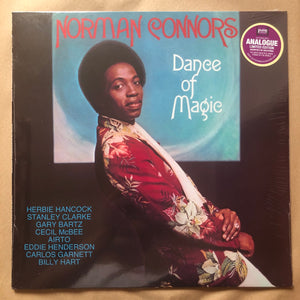 Norman Connors
Dance Of Magic: Vinyl LP
PPANBDS5674
Regular price
$41.00
$0.00
Unit price
per
Tax included.
Shipping
calculated at checkout.
Label: Pure Pleasure Records
Release Date: 7th July
THIS RECORD GOES OFF! The title track bursts with Latin jazz funk fusion, avant gard and free jazz excursions but it is called the 'Dance of Magic' after all and so it's super funky and danceable too. Also, check drummer Norman's band below - GOOD GOD!
Norman Connors: drums
Gary Bartz: alto saxophone, soprano saxophone
Art Webb: flute
Carlos Garnett: tenor saxophone, soprano saxophone Eddie Henderson: trumpet
Herbie Hancock: piano, electric piano
Cecil McBee, Stanley Clarke: bass
Airto Moreira, Alphonse Mouzon, Billy Hart: percussion Anthony Wiles - percussion, balafon
Nat Bettis - percussion, congas
180g audiophile vinyl reissue of drummer/composer Norman Connors's 1972 LP 'Dance of Magic', featuring an all-star group that includes Herbie Hancock, Gary Bartz, Stanley Clarke, Airto Moreira and Alphonse Mouzon, with re-mastering by Cicely Baston at Alchemy/Air Mastering
"Recorded with a who's who of fusion titans Dance of Magic channels the lessons drummer Norman Connors learned in the employ of Pharoah Sanders, Sam Rivers, and Sun Ra, marshalling Latin rhythms, electronic textures, and cosmic mysticism to create nondenominational yet deeply spiritual funk- jazz. The sprawling 21-minute title cut spans the entirety of the record's first half, capturing a monumental jam session that explores the outer edges of free improvisation but never steps past the point of no return...The remaining three tracks are smaller in scale but no less epic in scope, culminating with the blistering Give the Drummer Some." - Jason Ankeny
Press:
"A majestic classic...As with all reissues from the PP People, exquisite re- mastering, sleeve printing and 180g pressing gives the album all the credit and respect it deserves and for this writer, the best copy he's ever owned. For us and for Norman, this was to be the start of something very special and should be welcomed into households near and far." - ***** UK Vibe
"Dance of Magic's 20-minute title track, with its click-clack balaphone, whirl of poloyrhythms and cracking solos, from Herbie Hancock, among others, really sets the tone, while `Morning Change' is a svelte mid-tempo samba glowing up with Rhodes chords, and lyrical work from Eddie Henderson. The set winds up with the drums- percussion blast off `Give The Drummer Some', which is a raucous exchange between Connors and Airto, but the whole album is a hard- edged triumph of ensemble playing." - **** Jazzwise
---
Share this Product
---