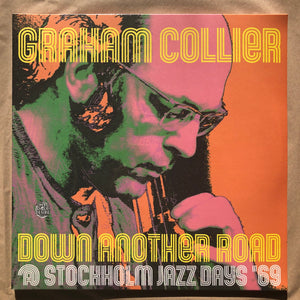 Graham Collier
Down Another Road @ Stockholm Jazz Days: Double Vinyl LP
MOD005
Regular price
$35.00
$0.00
Unit price
per
Tax included.
Shipping
calculated at checkout.
Label: My Only Desire
Release Date: 24th February
Free jazz, post-bop, big swinging and free-wheeling live rendition of Graham Collier's own masterpiece 'Down Another Road' captured, unearthed and delivered to waiting British Jazz heads courtesy of My Only Desire. The zip, vim and swing of this band is insane and features British jazz fusion royalty in the form of Nucleus and Soft Machine drummer John Marshall.
For those who dig: big 60s jazz that has an urgent fire but with a steely experimentalism.
Previously unreleased recording of bassist/composer Graham Collier's seminal British jazz album 'Down Another Road' recorded live in 1969 at Stockholm's Jazz Day festival, his all-star sextet includes jazz heavyweights Harry Beckett, Stan Sulzmann, Karl Jenkins and John Marshall.

Since it's release in 1969 on Fontana, 'Down Another Road' has become a cornerstone of British jazz, with the LP now a much sought-after rarity that regularly exchanges hands for over £200. It's considered the revered composer Collier's greatest album by many of its fans, thanks to its highly melodic, almost pop-like themes and irresistible '60s groove, spurred on by the on-point drumming of Soft Machine/Nucleus drummer John Marshall.

To make 'Down Another Road @ Stockholm Jazz Days '69' even more special, the abstract track "Danish Blue" has been replaced by the similarly epic free jazz composition "Burblings for Bob", which is released here for the first time. All the other tracks that everyone loves are present and correct - "Lullaby for a Lonely Child", "Aberdeen Angus", "Molewrench" etc. but with a rawer live feel to them, longer arrangements and more soloing - with the band in scintillating form.

Remastered from the original tapes by Caspar Sutton-Jones @ Gearbox Records, 'Down Another Road @ Stockholm Jazz Days '69' is available as a limited edition 2LP set housed in a gatefold sleeve and 'mini-LP' gatefold CD, with sleeve notes by Graham Collier biographer Duncan Heining.

Graham Collier: double bass
Harry Beckett: trumpet, flugelhorn
Nick Evans: trombone
Stan Sulzmann: tenor and alto saxophone
Karl Jenkins: oboe, piano
John Marshall: drums
1. Burblings for Bob
2. Molewrench - Intro
3. Molewrench
4. Lullaby for a Lonely Child - Intro
5. Lullaby for a Lonely Child
6. Down Another Road - Intro
7. Down Another Road
8. The Barley Mow - Intro
9. The Barley Mow
10. Aberdeen Angus - Intro
11. Aberdeen Angus
---
Share this Product
---