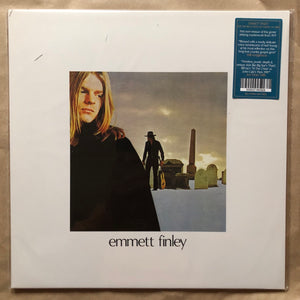 Emmett Finley
Emmett Finley: Sky Blue Vinyl LP
BPR031SB
Regular price
$32.00
$0.00
Unit price
per
Tax included.
Shipping
calculated at checkout.
Label: Big Potato Records
Release Date: 10th March
A perfect Sunday morning coming down record, a real gentle mind-clearer, it's a beautiful West Coast folk rock sound but also on the dark side ala Big Star's Third or Love or Neil Young's Ditch Trilogy. It's the original sad lad music but oddly full of sunshine.
For those who dig: That incredible 'Sad About The Times' compilation of west coast balladeers with broken hearts and addled minds.
First ever reissue of this genre defying lost masterwork from 1971 on extremely limited vinyl editions. Black & Sky Blue vinyl records come with 12" card insert with special liner notes by Jon 'Mojo' Mills & Will Hodginkson. "Blessed with a reedy, delicate voice reminiscent of Neil Young at his most reflective. Finley had an ability to grapple with love, loneliness and the wanderer's life. It is a pleasure to have his long lost country gospel gem in the world once more." Will Hodgkinson. "Timeless, poetic depth & unique style like Big Star's 'Third, Bill Fay 'Til the Christ' & John Cale's Paris 1919" Jon 'Mojo' Mills. "I watched and wrote and watched. From a hilltop graveyard I watched. And all I did was write and play for the funeral.." Emmett Finley. Imagine songs redolent of prime 'Doom Trilogy' Neil Young, Love, Exile On Main Street's honk via the swagger of Stone Roses (no kidding). Add the crushed biblical ballads of Bill Fay plus mini rock operas and we're close to describing this ornately crafted but beautifully raw collection. Like Fay, he was a willful studio maverick, a virtuoso who pushed his music as far as it would go and no mind for a career. Both eschew 70's strings in favour of driven piano, loose skronky guitar. And soul to burn. Emmett knew Hendrix and booked him to play on 'Sky King' - a rollicking paean to their competitive friendship. Hendrix vanished to England, but guests who did show included gospel trio The Ellington Sisters. Emmett enthused about their adventurous collaboration including a powerful "Three part harmony on G diminished 7th chords" & lovely snarl on "Gospel's" finale "Come, come and believe..." giving way to two minutes of vocal musique concrète - and you're only midway through side one! Lyrically beautiful and haunted, Emmett later described his main influence was 'the Time'. "In 69, Rock had nothing higher to offer, Woodstock was a peaceful, contained riot. Charles Manson slammed the door of that generation shut!". It's dark, it's emotional, it's groovy, just a perfect album from a brilliant hooky songwriter and guitarist - with the look & ambition of a rockstar expecting to fly. And then Emmett disappeared from the scene. Forever? A mystery wrapped in an enigma? "I may wind up a thoroughly obscure figure entirely forgotten" Emmett Finley The songs, the beguiling, exquisite arrangements, the ambitious undated production of this soul-piercing album should say otherwise.



---
Share this Product
---