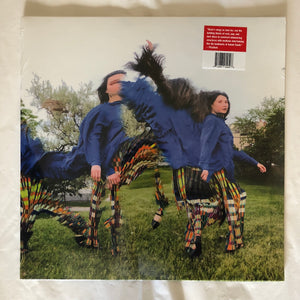 Jane Inc.
Faster Than I Can Take: Vinyl LP
TER087LP
Regular price
$30.00
$0.00
Unit price
per
Tax included.
Shipping
calculated at checkout.
Label: Telephone Explosion
Release Date: 29th April
If there's a planet where Jane Inc. is the biggest pop star in the world, get me on that rocket. Her latest is that 80s disco pop where Prince inspired guitar solos to meld into straight-up pop bangers and nobody questioned, they just danced. There's a wonderful bright bounce to all these songs but couple with a real mottled warp flange that gives this record a dark edge.
For those who dig: Robyn, Jessie Ware, US Girls, Prince, Mega Bog...
"Feels like I'm made of glass," Carlyn Bezic sings over a tumbling, harmonic guitar riff on "Pummelled Into Sand," the closing song of Faster Than I Can Take. "Like I could cut you, or you could break me in half." It's a double-edged statement about the power that comes from inhabiting your vulnerability, a complicated truth expressed so beautifully it seems almost simple. Making the impossible look easy has always been Bezic's musical M.O. Faster Than I Can Take is her sophomore album as Jane Inc., a solo project forged after years of building her bona fides in the Toronto music scene with groups like U.S. Girls, Darlene Shrugg and acclaimed dance-pop duo Ice Cream. Pitchfork called Jane Inc's first album, 2020's Number One, "dazzling... [Bezic] proves herself a musical Swiss Army knife, capable of anything and revelling in her multiplicity." On Faster Than I Can Take, she uses all the tools at her disposal - a Prince-like ability to shred harmonic guitar riffs over deep, danceable grooves, an eagerness to experiment with form, and lyricism that seamlessly links the personal and the political - to focus the multifaceted energy of Number One into something completely singular. A disco-inflected, danceable meditation on the permeable boundaries between our interior and exterior worlds, Faster Than I Can Take is an album that you can listen to at a party or alone in your apartment - but no matter where you listen, it will make you dance. On lead single "Contortionists," Bezic's voice floats over a landscape of spare, warping synths and ethereal backing vocals from Dorothea Paas (U.S. Girls, Badge Epoque Ensemble), seeming at first to sketch out a familiar pandemic scene: "The laws of time have changed / months pass in minutes, hours feel like days." But as the melody begins to swirl and bend back over itself, a deeper theme creeps in. "At first I thought I was making a record about time," Bezic explains, "but I was actually making a record about how, in moments of intense anxiety, you're living in the past, present and future at the same time. A million moments existing at once, real and imagined." By the time the song drops into a ticking groove, you know exactly what she means. Many of the songs on Faster Than I Can Take work this way - taking concepts that feel intimately interior and expanding them into something universal. Songs like the moody, bass-heavy title track, or the bright, searing "Pummelled Into Sand," where a Hendrix-like guitar solo runs under Bezic's voice like a third rail, deal with what Bezic calls "the pain of change and growth." "Human Being" and "Dancing With You" (whose bridge features the catchiest meditation break you've ever heard in a dance-pop song), explore the psychedelic melding of individual and collective worlds that can come from fantasizing about performance while alone in your house, or connecting to a group of strangers through your computer screen. In "An Ordinary Thing," Bezic contemplates the complexities of wanting to create anything - art, or even a family - against the backdrop of the Anthropocene. "Someone please take this from me / this feeling, this need," she sings, the tension audible in her voice. But in the next track, the irresistibly danceable "2120," that anxiety turns into powerful resolve: "I'll pour my grief into this plastic crucible / Forge a new infinite fuel made of anger, and hope, and refusal," she sings against a driving, determined beat. That determination is what makes Faster Than I Can Take unlike anything else you've heard this year - a work of art that refuses to either wallow in the difficulties of contemporary life or ignore them in favour of escapist fantasy. As Jane Inc., Bezic takes on the complexities of living in the world - alone, and with others - with playfulness, honesty, openness and love, and turns all that complication into something that will move you.
---
Share this Product
---