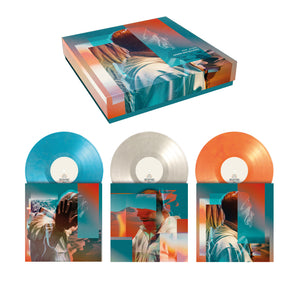 Armin van Buuren
Feel Again: Turquoise, White & Orange Marbled Numbered Triple Vinyl LP
MOVLP3443C
Regular price
$82.00
$0.00
Unit price
per
Tax included.
Shipping
calculated at checkout.
Pre-Order Item. Release Date Subject to Change.
Label: Music on Vinyl
Release Date: 19th May
• 180 GRAM AUDIOPHILE VINYL
• DELUXE LIFT-OFF BOX SET
• INCLUDES 5 EXCLUSIVE ARMIN VAN BUUREN LITHOS + 3 PRINTED INNERSLEEVES
• BRAND NEW 2023 ALBUM FEAT. THE SINGLES "COME AROUNDAGAIN" (WITH BILLEN TED FEAT. JC STEWART), "NO FUN" (WITH THE STICKMEN PROJECT), "REFLEXION (ASOT 2023 ANTHEM)" (WITH COSMIC GATE)
• FEATURING COOPERATIONS WITH R3HAB, SIMON WARD, COSMIC GATE, HUSKY, WILDSTYLEZ, TEDDY SWIMS, MATOMA, DIANE WARREN, MY MARIANNE, OWL CITY, CHICANE AMONGST MANY OTHERS
• LIMITED EDITION DELUXE BOXSET OF 3000 INDIVIDUALLY NUMBERED COPIES ON TURQUOISE MARBLED (LP1), WHITE MARBLED (LP2) AND ORANGE MARBLED (LP3) VINYL

One day, you wake up with a cloud in your head. You feel out of place and uninspired, and juggle so many worries the balance is skewed. That was Armin van Buuren three years ago. He put so much love and passion into his work and found it hard to cope with the fact that not everyone can be pleased. Something needed to change. So, he reformed his life routines, took up meditation to calm the storm and did everything he could to negate the numbness. And what he ended up with was a newfound love for music and an incredible three-part album: Feel Again.

From "No Fun" and "Computers Take Over The World" to "One More Time", "Come Around Again" and "Roll The Dice", the Feel Again album sonically represents the journey of an artist extraordinaire radically looking for harmony within himself. Its 34 tracks may be different in terms of sound, but together, they reflect an equilibrium that could only come from a man in balance.

From reconnecting to friends, family, and fans to finding inner peace, Feel Again means acknowledging harsh truths, finding out what really matters and letting that power a new step forward. Because in the evergreen words of Armin van Buuren himself, "we're still learning and will never stop learning till the day we die".

Feel Again is available as a deluxe limited edition box set, including 3 LP's, which are housed in printed innersleeves. The set also includes 5 exclusive Armin van Buuren lithos. This deluxe boxset is limited to 3000 individually numbered copies on turquoise marbled (LP1), white marbled (LP2), and orange marbled (LP3) vinyl.
SIDE A
1. Feel Again (feat. Wrabel) 2. Oumuamua 3. No Fun (with The Stickmen Project)
4. Human Touch (feat. Sam Gray)
SIDE B
1. Come Around Again (with Billen Ted feat. JC Stewart) 2. Let You Down 3. Start Again (feat. Jesse Fink) 4. Pas de Bourree (feat. Lucky Lou) 5. Love We Lost (with R3HAB feat. Simon Ward) 6. Offshore (with AVIRA vs Chicane)
SIDE C 
1. One More Time (feat. Maia Wright) 2. Superman (with Blasterjaxx feat. 24h)
3. Forever & Always (with & Gareth Emery feat. Owl City) 4. Roll The Dice (feat. Philip Strand) 5. I'm Sorry (feat. Scott Abbot)
SIDE D
1. Computers Take Over The World 2. Clap 3. Hey (I Miss You) (feat. Simon Ward) 4. Something Beautiful 5. Live On Love (with Diane Warren feat. My Marianne) 6. Shot At Love (feat. Husky)
SIDE E 
1. Tocando El Sol (with Azteck) 2. Typically Dutch (with Wildstylez feat. PollyAnna)
3. Easy To Love (with Matoma feat. Teddy Swims) 4. Dayglow (feat. Stuart Crichton) 5.cLa Bomba (with Blasterjaxx) 6. Do Right (feat. Zoi) 7. On & On (with Punctual feat. Alika)
SIDE F
1. Vulnerable (feat. Vanessa Campagna) 2. Letting Go (feat. Matluck) 3. REFLEXION (ASOT 2023 anthem) (with Cosmic Gate) 4. State Of Mind (feat. Alba) 5. Rhythm Inside (with Ahmed Helmy) 6. Feel Again (reprise) (feat. Wrabel)
---
Share this Product
---