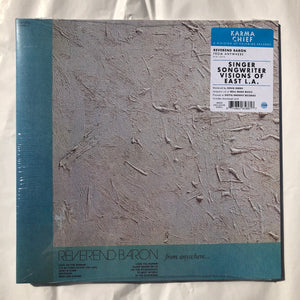 Reverend Baron
From Anywhere: Powder Blue Vinyl LP
KCR12015LPC1
Regular price
$30.00
$0.00
Unit price
per
Tax included.
Shipping
calculated at checkout.
Label: Karma Chief Records/Colemine
Release Date: 24th June
It would seem that if one is good at skateboarding they're likely good at making music, this isn't a fully formed theory but pro skater Danny Garcia aka Reverend Baron backs it up a little. His sound is a quintessential Karma Chief one, in that evokes a hazy LA nostalgia, a faded soul-pop song, a mirage in concrete and beach, well-crafted honest US tropicalia rnb. The sort of music that would do well soundtracking a breezy skate around the concrete surf.
For those who dig: Michael Nau, Richard Swift, Cut Worms, Sam Burton, Holy Hive...
Danny Garcia is Reverend Baron, Danny was a pro skater for Habitat for many years. Bandmember in Drugdealer. Previous single 'Let The Radio Play' added to Spotify's Folk Arc playlist. Debut LP on Karma Chief Records. Written, recorded, and produced by Danny Garcia. From the academy of deep soul and no ego, Reverend Baron delivers visions of liquor store East LA, the off-the-freeway dry mirage of slow motion graffiti and lonely seagulls. A nylon stringed zen fog with themes of woozy love, layered dimensions of nostalgia and glazed neighborhood tales that roll in with a natural ease. After notching a permanent status in the skateboarding orbit as Danny Garcia, he transferred his effortless style, dedication and authenticity into music. Practicing a philosophy of demystifying the process and doing it yourself, he has become a proficient multi-instrumentalist, engineer, and producer of his own and other artist's music. All streams of curiosity converge into the river. An enigma, Reverend Baron emerges from the proverbial gray overpass with no sense of urgency. He takes a sharp gaze at his surroundings and processes them through a factory of depth and gentle swag to yield a sound that sits as easy as fallen molasses on the bodega shelf. The songs are an unassuming invitation to either walk through the doorway or lean on the wall outside, either way something beautiful and rare.
---
Share this Product
---