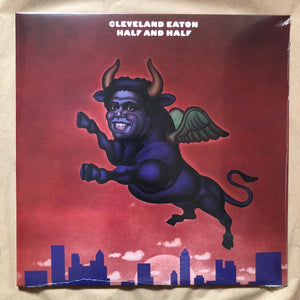 Cleveland Eaton
Half And Half: Vinyl LP
BEWITH090LP
Regular price
$29.00
$0.00
Unit price
per
Tax included.
Shipping
calculated at checkout.
Label: Be With
Release Date: 2nd June
Check that cover, Cleveland as a winged bullman flying over the city! You've got my interest already, the music better be white hot for such a cover - lucky it's all that and more. Supreme funk and soul, some grooves and some hitters, some smooth cosmic flute moments, some wild jams that verge on a country funk, squelchy library'esque disco funk and a psychedelic soul epic. This record has it all and THAT cover!

"Every cut on our albums are what we call "A" sides" - Cleveland Eaton, on Half And Half
Like the winged half-man/half-bull that dominates its outrageous cover, Cleveland Eaton's Half And Half is a mutant bass-heavy monster that absolutely slays. Incredible jazz-funk from 1973, it's been largely overlooked for decades, and unfairly so. This is just sensational music - a crate digger's delight. It's super funky throughout, with lots of layers, jazz breaks for days, dripping with style and gritty class. This is the first reissue of what has been a hard to find record for many years; it's long overdue. Joyous music for mind, soul and body.
Cleveland Eaton was a revered bassist who played an active role in the backing of Count Basie, the Donald Byrd Quintet, The Ramsey Lewis Trio, Terry Callier and Minnie Riperton; amongst many, many others. Half And Half was the first album released under his own name, initially released as a private press record on his - awkwardly named - Cle An Thair Records. It was then picked up by Gamble & Huff for Gamble Records. Varied, string-adorned and with stupid funky grooves, it's just exceptionally good.
Whilst Half And Half is treasured for its famously brilliant interpretations of gold funk-soul standards, Eaton proves an imaginative composer in his own right. Indeed, the album opens with a striking original; the earthy, laconic jazz-guitar-funk fusion of "Keep It Funky". Cleveland and co. do exactly that. Up next is a properly moving cover of Aretha Franklin's eternal "Day Dreaming". The flute and guitar combo truly achieve celestial greatness here. "Here Comes Funky Lou" rides a bassline from the Gods and a driving soul-jazz groove allows the track to go off in all sorts of directions. Serene guitar soul of the breezy variety one moment, crazy hectic violin-driven wig outs the next, courtesy of Ed Green who played with Dorothy Ashby and Alice Coltrane.
His blistering two track salvo of Stylistics covers to close out this A-Side of A-Sides will leave your jaw dropped, and they're likely the reason you're here for this. And why not? "Betcha By Golly Wow", which uses a bed of acidy synths and harmonica to create a unique atmosphere, is on some next level business. Melancholic, wistful, beautiful. "People Make the World Go Round" is so good, dripping in wonderful horns and ace percussive breaks, it could even be regarded as the definitive version. Seriously!
Opening Side B, War's gigantic "Slipping Into Darkness" is tightly tailored to Eaton's funky flute fusion arrangement whilst the insistent "Missing You" is a swaggering horn-heavy version of Luther Ingram's track from the Dilla/Ghostface-linked LP, I've Been Here All The Time. The creeping, screeching guitar-drenched original "John's Groove" features more fantastic horn lines and neck-snapping percussion whilst "The Love Gangster", written by Bill Wyman and Stephen Stills for his seminal Manassas LP, contains a heavy break with slick drums high in the mix and fuzzy guitars.
The album closes with two more Eaton originals. Written with Johnny Guitar Watson, "Lie" is one hell of a funky string and guitar-driven gem whilst the wild, celebratory "Ah Movin' On" cleverly quotes "Wade In The Water" (which he'd recorded with Ramsey Lewis in 1966) folding it into his new free-jazz composition. A message to his old boss, perhaps, as a sign-off?
We've worked on this reissue for 3.5 years, spending the whole time making it sound super sharp and looking as perfect as it possibly can. An absolute must-have for fans of soulful jazz-funk, Half And Half was mastered for vinyl by Simon Francis and cut by Pete Norman at Final Tweak. The bizarre artwork, mutant beast and all, was restored at Be With HQ over many painstaking months! Hopefully, this new edition, a real labour of love, should bring Cleveland Eaton into the homes and record boxes of many more people.

Tracklist:
A1 Keep It Funky 5:20
A2 Day Dreaming 3:36
A3 Here Comes Funky Lou 4:00
A4 Betcha By Golly Wow 4:15
A5 People Make The World Go Round 5:34
B1 Slipping Into Darkness 7:15
B2 Missing You 3:1
B3 John's Groove 2:55
B4 The Love Gangster 3:20
B5 Lie 2:15
B6 Ah Movin' On 4:00
---
Share this Product
---