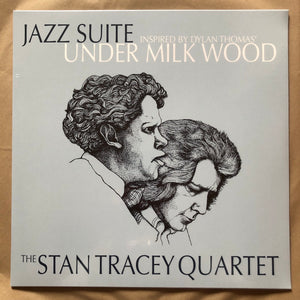 The Stan Tracey Quartet
Jazz Suite Inspired By Dylan Thomas' Under Milk Wood: Vinyl LP
RSJLP001
Regular price
$30.00
$0.00
Unit price
per
Tax included.
Shipping
calculated at checkout.
Label: Resteamed
Release Date: 12th May
A British Jazz classic finally reissued. Inspired by Dylan Thomas' masterpiece, a jazz interpretation that brings the depth and warmth, that is on par with the greats of American jazz but retain a woody British folk with elements of darkness but also with that joy of the British jazz club scene.
* Limited one-off pressing of 1000 copies worldwide
* Lacquers cut by Caspar Sutton-Jones @ Gearbox Studios
* Includes new sleeve note by Stan Tracey's son Clark Tracey

Stan Tracey: piano
Bobby Wellins: tenor saxophone
Jeff Clyne: bass
Jackie Dougan: drumsReissued on vinyl for the first time in nearly 40 years, The Stan Tracey

Quartet's "Under Milk Wood" is considered one of the finest British jazz
albums ever made, an effortlessly iconic masterpiece that encapsulates
the heady '60s jazz boom.
It features compositions by the great Stan Tracey - The Godfather of British Jazz -
inspired by Dylan Thomas' drama 'Under Milk Wood', including the timeless
"Starless and Bible Black" with its acclaimed solo by tenor saxophonist Bobby
Wellins.

Like Thomas's characters, the themes vary greatly in tempo, in mood, in dramatic
depth. The title song is a triumph, not only because it stands by itself as a
beautifully conceived jazz ballad, but because it sets the scene for the rest of the
writing and playing. Some of the other themes are impressionistic and highly
subjective sketches of Thomas seen through the prism of jazz.

It was awarded 69th place in Jazzwise magazine's The 100 Jazz Albums That
Shook the World: "Tracey is indispensable, a one-man mission statement. Here he
showed how much could be achieved within the basic jazz quartet format.
Reaction at the time seems to have been along the lines of where on earth did
this come from? Coherent, vital and mind-stretching."
1. Cockle Row
2. Starless and Bible Black
3. I Lost My Step in Nantucket
4. No Good Boyo
5. Penpals
6. Llareggub
7. Under Milk Wood
8. A.M. Mayhem
---
Share this Product
---