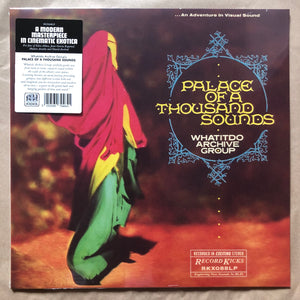 Whatitdo Archive Group
Palace Of A Thousand Sounds: Vinyl LP
RKX088LP
Regular price
$27.00
$0.00
Unit price
per
Tax included.
Shipping
calculated at checkout.
Label: Record Kicks
Release Date: 11th August
Another ace reimagining of library and soundtrack funk, this time taking on the dusty, fuzzy and richly colourful sounds of the Middle East. It's got those heavy breaks, lush strings and cinematic funk that make this manna for beat collectors and those who enjoy instrumental bangers.
U.S. Cinematic outfit Whatitdo Archive Group returns to explore the worlds of Mid-Century Exotica and Library Music with "Palace Of A Thousand Sounds," out on May 5th.
From the instrumental cinematic-soul outfit behind 2021's critically acclaimed The Black Stone Affair comes Whatitdo Archive Group's most recent foray into the realms of the esoteric and arcane, and their most adventurous album to date: Palace Of A Thousand Sounds, available May 5th, 2023 on Record Kicks on limited edition LP, CD and digital platforms.
After The Black Stone Affair enthralled record collectors by traversing the cinematic landscape of an imagined 1970s Spaghetti Western, Palace Of A Thousand Soundsfinds Whatitdo Archive Group entrenched deeper in the worlds of mid-century exotica and library music—from the Tropicalia-steeped Amazon to the minor key tonalities of the far-out Near East.
When the dust finally settled from their debut album, composer and tireless sound scientist Alexander Korostinsky set out to discover the band's new direction, with the ultimate goal to breathe new life into the mid-century era sound with the compass of modernity as his guide.
From its conception in 2021, Palace has sought to carry on a legacy set in motion by the likes of Martin Denny, Les Baxter and Juan García Esquivel. Korostinsky, guitarist Mark Sexton, and drummer Aaron Chiazza recorded the album in marathon sessions from Korostinsky's Studio "A," in Reno, Nevada—a mysterious sonic laboratory where the year 1970 has yet to happen, and vintage analog equipment interfaces with modern musical perspectives and experimental recording techniques to produce era-defining sounds.
Not content to appeal to the sensibilities of armchair anthropologists, Palace Of A Thousand Sounds finds the band interrogating the genre itself while making studious tributes to the real places and times it draws from. It's in this tension between here and there, fantasy and reality, that Whatitdo Archive Group find their groove.
Drawing from a century of pop and folk sounds from around the world the way only 21st-century crate-diggers can, Palace is rooted in an undercurrent of heavy funk that is decidedly here and now. Whatitdo Archive Group showcase the breadth of their influences with disarming confidence, equally at home behind sweeping harp, loungey vibraphone or Turkish bağlama saz. A lush seventeen-piece orchestra commanded by award-winning composer Louis King (Janelle Monáe, Monophonics) completes the instrumental mélange, enticing listeners to imagine a borderless planet unified by melody and rhythm.
The album is unafraid to explore the strange and uncomfortable in pursuit of an authentic musical identity, subverting expectations in pursuit of forwarding the genre while paying homage to its past. Fans will appreciate the architectural complexity of the record accessible only through multiple listens—each visit to the palace yielding new details to marvel at, curiosities to ponder, grand mysteries to explore.
Once the needle drops, W.A.G carefully guides you from room to room, sound to sound within the walls of the album's sonic palace. Listening becomes an aural journey providing glimpses into different worlds both real and imagined; you are everywhere and nowhere all at once—a guest in the grand halls and hanging gardens of time and sound.
Steeped in obscurity, a cult following of crate-diggers and musical oddity collectors has been brewing over the mysterious releases of the Whatitdo Archive Group. Surfacing in 2009 from the high deserts of Reno, NV USA, this three-piece recording collective(Alexander Korostinsky, Mark Sexton and Aaron Chiazza) focuses solely on curating, performing and preserving esoteric soundtrack, library and deep-groove collections. As an onlooker, it's hard to tell whether the music they are procuring is actually archival, music of their own creation, or both. Their debut LP The Black Stone Affair, the formerly lost soundtrack music of a once-shelved Italian cinematic masterpiece, was released in 2021 and received praise from the likes of Wall Street Journal, Mojo Magazine, Uncut, Shindig, Blues & Soul Magazine, BBC 6, FIP Radio (FR), KCRW (US), JazzFM (UK) and more. Two years later, the Whatitdo Archive Group is back. Get ready for an exotic adventure with their sophomore full-length effort: Palace of a Thousand Sounds.
---
Share this Product
---