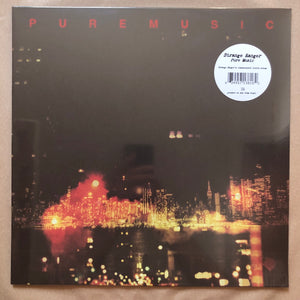 Strange Ranger
Pure Music: Transparent Vinyl LP
LPFTK254IE
Regular price
$30.00
$0.00
Unit price
per
Tax included.
Shipping
calculated at checkout.
Label: Fire Talk
Release Date: 21st July
A celebration of subcultures through a goth rock and industrial electronic lens; some massive straight up rock songs, euphoric with a buzz of the epic but with synths that come right of the underground clubs, melancholic soul pop and even a slight nod to jungle, drum n bass and British club culture. 


On Pure Music, Strange Ranger's new album out on Fire Talk, the band indulges an obsession with Loveless, but they infiltrate any comparison to shoegaze with overtures to disco, house, and experimental pop
The Talk Talk inspired pean to isolation "Way Out" features a moody saxophone, while "She's On Fire" is only a rock song until just after the midway point, when the drums throb, the snare skitters then snaps, and suddenly, you're in a sweaty pit of swaying bodies dancing as dual vocals harmonize, "I would have thought the rhythm of the club might lead me somewhere. Pure Music embodies that manic state through interstitial interludes laced with YouTube samples that connect each track to the next so as to submerge the listener in its world, one that rewards catharsis. The alienated might gaze through panes of glass eternally, without breaching the gap between the self and the destabilizing chaos of the world beyond. Riding the train across the East River in the early morning, one witnesses thousands of individual stories, each contained within a glowing square of light, and it's a comfort to know that soon, those strangers will emerge from their solitude to rejoin the city. "Music makes us transcend the feeling of being alienated from or trapped by the world," the band says. "I want the experience of listening to Pure Music to be euphoric." Recorded by the band, mixed by Al Carlson and mastered by Joe LaPorta.
---
Share this Product
---