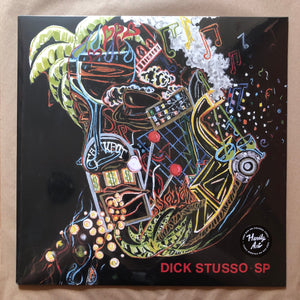 Dick Stusso
S.P.: Clear Vinyl LP
HAR162
Regular price
$31.00
$0.00
Unit price
per
Tax included.
Shipping
calculated at checkout.
Label: Hardly Art
Release Date: 24th March
18 little nuggets, 18 little pockets of oddball west coast pop joy, 18 little documents of what it may have been like if Nilsson and Lennon made another  album during their 'Lost Weekend' and 18 woozy stumbling out a honky tonk bar into a Margherita New Orleans street party anthems.
For those who dig: Lennon, Nilsson, Nap Eyes, Michael Rault, Dougie Poole, PAINT, White Fence...
Dick Stusso's third album is a document of slow mental unravelling with a world in perpetual decay as its backdrop. With S.P., California-based singer and songwriter Nic Russo has created his most out-there and toothsome record to date, plunging his listeners into a strange and thrilling new world at every opportunity. S.P. is the first Dick Stusso record in four years, following his stellar Hardly Art debut In Heaven from 2018—but this latest missive is more of an indirect sequel to the buzz-building 2015 release Nashville Dreams / Sings the Blues, diving deeper into the fictional character Dick Stusso's crumbling psyche and dystopian surroundings. If our introduction to Dick was someone trying to pursue their dreams and turning into a failure as a result, S.P. reflects the moment where, in Russo's words, "The character is becoming unlikable. He's succumbing to what is taking place around him. "Nearly half of its 18 songs—spanning countrified rock duets, Guided by Voices-recalling anthems, and outro noise-burst sound experiments—were completed before the pandemic, when Russo decided to take a beat and allow the music to sprout new, weird buds in his rehearsal space. With mixer Andrew Oswald accentuating the record's unique feel, S.P. bridges the gap between the ultra lo-fi confines of his 2015 debut Nashville Dreams / Sings the Blues and the lush echoes of In Heaven, with a few helping hands to fully flesh out Russo's vision. Grace Cooper (The Sandwitches, Grace Sings Sludge) contributes vocals to "Dinner for Two" and "Self Reflection (Deep)," while his father Marc Russo—a Grammy-winning saxophonist who's currently touring with the Doobie Brothers—lays down expert horn arrangements on "Garbagedump #1." The myriad of twists and turns on S.P. further establish Russo as a fascinating craftsman who's never bound to do the same thing twice.


---
Share this Product
---