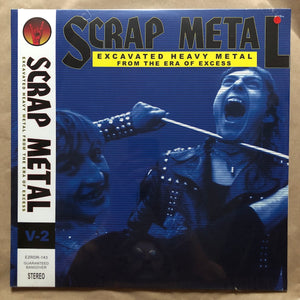 Various Artists
Scrap Metal Volume 2: Blue Vinyl LP
EZRDR143
Regular price
$34.00
$0.00
Unit price
per
Tax included.
Shipping
calculated at checkout.
Label: Riding Easy
Release Date: 17th February
Another collection of NWOBHM and Thrash Metal inspired rippers from heavy metal Gods of their own garage, local pub/working men's club/dive bar. Raw and unabashed heavy rock bangers, big on the solos, massive on the mullets, supersmelly on the leather jackets but perfect documents of the joy of being in a hard rock band with dreams of being Metallica or Judas Priest.
For those who dig: big heavy loud metal rippers from the golden age of the genre.
If you were smart enough to get your grubby paws on the first Scrap Metal compilation, you probably have a pretty good idea of what you're in for with our second installment. Featuring long-lost gems from ultra-rare 45s and private press singles—plus one previously unreleased banger—Scrap Metal 2 maintains a steady NWOBHM course. Packed with infectious outliers and supremely talented one-and-done metal warriors from the crucial British movement of the late '70s and early '80s (and some killer American obscurities inspired by them), this collection delivers all the fist-pumping, riff-mongering and flashy solos of heavy metal's golden age. As always, every track has been officially licensed and every artist gets paid. As a late entry into the NWOBHM sweepstakes, JJ's Powerhouse was formed in Merseyside, England, by guitarist Jon "J.J." Cox with members of his previous band, Quad. Much like the opener to the original Scrap Metal comp, you can hear early Metallica coursing through this legendary ripper. Coincidentally, this ultra-rare 45 was released in '83, the same year as Kill 'Em All. Taking their name from a 1978 sci-fi novel by Marion Zimmer Bradley, Welsh super troopers Storm Queen reveled in animal-print clothing and flying Vs. The Motörhead-meets-Priest anthem "Raising the Roof" is the flipside to their only single, which the band self-released in 1982. Led by guitarist Dave Morse, Storm Queen's earliest lineup included bassist Bryn Merrick (RIP), who would go on to join The Damned. Roaring out of Birmingham, England, in 1975, Jameson Raid palled around with fellow Brummies Black Sabbath and named themselves after a failed 19th century attack that helped kick off South Africa's Second Boer War. Their three-song 1979 debut featured the infectious "It's a Crime," which comes across like a deadly hard-glam version of Budgie. Still fronted by vocalist Terry Dark, they're going strong as of 2022. A.R.C., a punky proto-metal group from the UK, released the boozy single "Home Made Wine" b/w "The Chase" in 1979 and—as far as we know—were never heard from again. They're not to be confused with a gang of Tolkien enthusiasts also called A.R.C., who released two NWOBHM singles in the early '80s and actually were heard from again. Nonetheless, the A.R.C. we have here was led by a thirsty lad named Klaus Brunnenkant, who liked to rock n' roll all night and party every day. Both sides of Metropolis' sole single bear the legend, "Unauthorized duplication shall result in getting your ass beat." This San Jose metal squad released their only single in 1986 and dedicated it to Metallica bassist Cliff Burton, who had recently been killed in a bus accident. "The Raven" is the serpentine NWOBHM- and Edgar Allan Poe-influenced flipside to "Time Heals Everything," and yeah, you can hear the guitars going out of tune on the solo, but that's part of the charm. Of the two dozen or so metal bands that have called themselves Prowler over the years, we're pretty sure this particular Prowler is the only one from San Diego. These dudes take a thrashier approach than most of the bands here on Scrap Metal 2: "Temporary Insanity" strikes a deft balance between early Anthrax and early Testament, with just enough hard rock swing to keep it from getting overly staccato. Self-released in '86 as the band's only single, the song is the flip to "I Love It." Not much is known about Christian Steel beyond this: They put out their only single in 1983, which boasted "Need Your Love" as the flip to "I Don't Want To." The former, included here, sounds kinda like a dizzy, more metallic version of '70s Jersey rockers Starz, who famously influenced the likes of Mötley Crüe, Poison and Twisted Sister. Ohio guitarist/vocalist Marty Soski's career dates back to at least 1969 with the Inside Experience track "Be On My Way," which we unearthed for our own Brown Acid: The Third Trip. This time, we've got a monster Soski cut that he recorded under the name Black Rose. Released in 1982, the absolutely smokin' "Sidewinder" was the A-side on the band's sole single. The main riff isn't far off from Y&T's major-label banger "Mean Streak," which was released the following year. When Dark Age titled their 1987 album The Youngest Metal Band in the World, they weren't even sort of kidding. Legend has it that "Star Trippin'," which was released as a single a year earlier, was written by guitarist CJ Rininger when he was just 12 years old. His brother Dave, the vocalist, was two years younger. Old photos of the band—complete with pineapple haircuts—seem to bear this story out. Either way, the song is pure flash metal, conjuring Sunset Strip sleaze all the way from Ohio. By now, all you heads know Los Angeles magic men Sorcery from their storied appearance in—and soundtrack for—the death-defying Ozploitation flick Stunt Rock. What we have here in "Whales" is a previously unreleased track from the same 1978 recording sessions. It's a little bit Zeppelin, a little bit prog, and a whole lotta thundering riffage. Why this languished in the vaults for so long is anyone's guess. Better late than never!

Tracks

01. JJ's Powerhouse - Running For The Line
02. Storm Queen - Raising The Roof
03. Jameson Raid - It's A Crime
04. A.R.C. - Homemade Wine
05. Metropolis - The Raven
06. Prowler - Temporary Insanity
07. Christian Steel - Need Your Love
08. Black Rose - Sidewinder
09. Dark Age - Star Trippin'
10. Sorcery - Whales
---
Share this Product
---