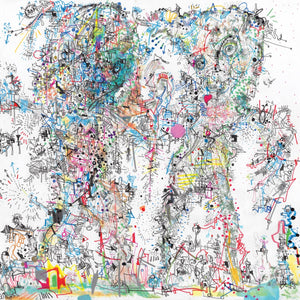 Atmosphere
So Many Other Realities Exist Simultaneously: Vinyl LP
RSE351LP
Regular price
$31.00
$0.00
Unit price
per
Tax included.
Shipping
calculated at checkout.
Pre-Order Item. Release Date Subject to Change.
Label: Rhymesayers
Release Date: 5th May
MC Slug and Producer Ant still out here with that timeless art of big boom bapping, scratching, well-dug and well-versed lyrical hip hop. When this sound is done right, few better things in music and Atmosphere always do it RIGHT.
For those who dig: Aesop Rock, Heiroglyphics, Eyedea, Homeboy Sandman, Busdriver...
The new album from hip-hop duo Atmosphere, So Many Other Realities Exist Simultaneously, opens with veteran rapper Slug and seasoned producer Ant taking a gentler approach. A departure from the brute intros of earlier works, the lead-off track "Okay" sounds focused on comforting and reassuring the listener, as if informed by fatherhood and implicit duty. With Slug rapping over one of the most twinkling productions Ant has released, the song lays the groundwork for an album-length exercise in fumbling consciousness without setting a precedent for how they intend to navigate it. Yet, as gently as the album begins, there's an unmistakable sense of unease from the onset that continues to evolve throughout the project, as Slug and Ant weave the listener through indistinct themes of insomnia and woe. 
From the subtle panic at the heart of songs like "Dotted Lines," to the overt anxiety of songs like "In My Head," the tension seems to cede and swell, but just as the tears begin to well, they seem to find resolve again through songs like "Still Life," whose hopeful outlook undercuts the tensity of the album. Meanwhile, the rhythms on So Many Other Realities are some of the most inventive of Ant's career. The playful percussion on "In My Head" acts as a nice counterweight to the roiling writing, while the drum patterns on "Holding My Breath" and "Bigger Pictures" allow Slug to play with his flow to emphasize the anxiety driving the record.
Where previous records in this most recent act of Atmosphere's career have been focused on emphasizing the parts of life that carry the most meaning—family, brotherhood, purpose—So Many Other Realities is an almost unnerving excavation of paranoia that can be grafted onto the general malaise of a pandemic weary society full of civil unrest. The tension of these songs is palpable, but the album's mere presence is a testament to the hope that has to underpin even the most stressed out songs. Regardless of when the curtains might close, the music goes on.
---
Share this Product
---