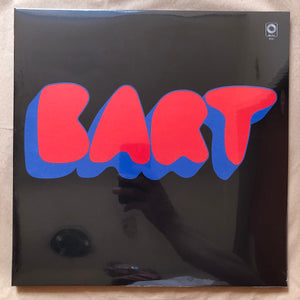 Bart
Some Kind Of Way: Vinyl LP
IF041LP
Regular price
$31.00
$0.00
Unit price
per
Tax included.
Shipping
calculated at checkout.
Label: Idée Fixe Records
Release Date: 5th May
This shop feels very seen right now, are Bart some kind of industry plant intended just for this shop? Joseph Shabason's luxury saxophone styling, that soft funk but hold on, this record was just a power pop record, then it was had the punk funk ire of the Clash, hold on it's spiritual jazz, it's prog, hey wait a second they sound like America or CSNY, now they sound like they could be on SST records and then King Crimson. I think i'll just listen to Bart and Bart only now as my nutritious musical meal that provides all my sonic vitamins.
Some Kind Of Way is beloved Toronto band Bart's third full length release and follow-up to their critically acclaimed sophomore album Today, Tomorrow, & The Next Day. Seeking to abandon the protracted and meticulous creative process of previous albums, chief architects Christopher Shannon and Nathan Vanderwielen assembled a core group of players to form a new iteration of Bart by inviting multi-instrumentalists Harrison Forman (Hieronymus Harry, Dr. Joy), Patrick Lefler (ROY, Possum) and drummer Micael Brushey to help capture the record's spontaneous ensemble performances. This core was then augmented by a cadre of collaborators both old and new drawn from Toronto's deep musical well. Familiar voices return including Joseph Shabason (Tenor Sax), Jason Bhattacharya (percussion) along with newcomers to the Bart universe Carl Didur (piano/synth), Patrick Smith (soprano sax, flute), Ewan Farncombe (Trumpet), Eliza Niemi (cello) and Rachel Cardiello (viola). Together they combine to create Bart's most eclectic and immediate album to date. The album charges out of the gate in classic fashion with two of the LP's singles back to back, When Will I Find It? (a retro acoustic pop nugget reminiscent of the band's recent spate of standalone singles) and Turncoat (a scathing post-punk condemnation of an imposter) which combine to clock in at a mere 3:50. With third track, the Crimson-esque instrumental Gorge, introducing wah-wah guitar, mellotron, flute, sax and strings to the proceedings all bets are off on what will come next. What does follow is one of the album's highlights, Song of Spring (which features a star turn on vocals and composition courtesy of luminous Toronto legend Drew Smith of Bicycles and Bunny fame). As the confessional cut unwinds with a Joseph Shabason sax solo casting a distinct counterpoint to the narrator's sense of loss and regret, the tune makes a strong case for the band to further explore their soul leanings. Side A concludes with Rose Quartz, which is perhaps the album's freest expression of ensemble playing. A deep groove provides a launch pad for sax soloing and psychedelic verse that takes a page from electric jazz and also, but not surprisingly, another of Toronto's purveyors of psych, Possum, whose overlapping membership with Bart cannot be ignored. Some Kind Of Way's Side B contains the record's deep cuts and an even more eclectic sound emerges. Home Before 5 is classic Bart with its series of musical movements, progressive leanings, sophisticated tone and opaque lyricism. Second cut Forced Perspective is another accusatory post-punk shouter with the band at its most sly and mathy. Next up is The Breeze (credited to the entire band) which is a particularly dank visit to the swamp of psychedelic jammers that inhabit B-sides and B-movies; clearly the band was getting loose in the studio and this is perhaps the most spontaneous track in the entire Bart catalogue. Closing track All Good Things (written by Vanderwielen and Mark Smith) is a wonderfully melancholic acoustic and string ode and, although a true outlier, it sends the album off in elegant fashion. With Bart being a group of such avid musical seekers, Some Kind Of Way feels as though a deep musicologist has made a mixtape of songs from albums you need to own. Let it act as a gateway to explore Bart's catalogue and the music of those who contributed to Some Kind Of Way, as this is the work of a group of some of Toronto's most talented players and studio talents working together collectively to produce a stunning and timeless work.
---
Share this Product
---