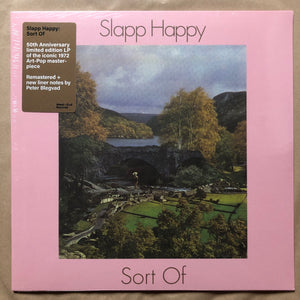 Slapp Happy
Sort Of: Vinyl LP
WE4
Regular price
$37.00
$0.00
Unit price
per
Tax included.
Shipping
calculated at checkout.
Label: Week-End Records
Release Date: 15th September
Where has this perfect slice of avant-garde experimental pop been my whole life? 'Sort Of' the debut album by an impromptu German band, who kind of made a band for fun, had Faust on rhythm and is now my favourite record gets a 50th anniversary. It's got this off-kilter whimsy, a bit of west-coast country folk, an element of the Beefheart and a wonderful sense of playing being a band and winging it.
For those who dig: Velvet Underground, Beefheart, Fairport Convention, Karen Dalton, Faust...
In 1972, left-wing intellectual film critic Uwe Nettelbeck suggested to Anthony Moore that he might write some straight songs (relatively speaking), which in turn prompted Moore to invite his old school friend Peter Blegvad over to Hamburg to form the band Slapp Happy.
Dagmar Krause, a young singer from Hamburg and Moore's girlfriend, joined them both on their trip to Wümme to record what was to become this album, Sort of, using Faust as their rhythm section.
In honour of this album ś 50th anniversary the album will get a nicely remastered reissue with the newly founded Week–End Records –the festival's inhouse label who managed to get the band together for a final reunion shows in November of 2016 and Spring of 2017.
Just A Conversation 
Paradise Express 
I Got Evil 
Little Girls World 
Tutankhamun 
Mono Plane
Blue Flower
I'm All Alone
Who's Gonna Help Me Now 
Small Hands Of Stone
Sort Of 
Heading For Kyoto


---
Share this Product
---