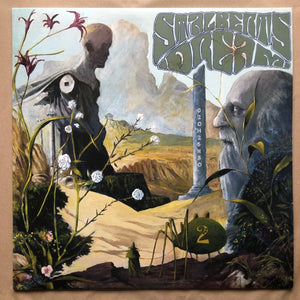 Various Artists
St Alberts Dream Vol 2 : Lucid Electric Prophet: Vinyl LP
MMP042319
Regular price
$34.00
$0.00
Unit price
per
Tax included.
Shipping
calculated at checkout.
Label: Lion Productions
Release Date: 3rd November
Few things get us more excited over a comp than knowing every track is mega-rare, mega-heavy, mega-trippy 70s psychedelic rock. Like stepping travelling into an unknown past with only the heavy heavy hitters to surprise us. We're finding maybe one or two tracks online from this comp, all super rare and SUPER FUZZED OUT KILLER PSYCH ROCK.
Heavy "dosed" psychedelia where The Prophet takes you to the depths of the unknown Acid Land
Twelve tracks from some of the deepest underground acts in North America, from the years 1968-1972. Plenty of raw fuzz, swirling effects, deep lyrics, heavy beats, and cool hooks from these mostly unknown heroes of this long past era of musical creativity. Sourced from micro- pressed 45's and unreleased master tapes, these songs have never been compiled on vinyl before.
Hear wizardry from such acts as Osceola, Hindenburg Lyon, Ark, Merriday Park and others. The very detailed fantasy cover art evidently shows "The Prophet as he enters the mythical Valley Of The Stone Giants." And why not? Created for and by lovers of the mega-heavy and the ultra obscure.
Praise for the long out-of-print first volume of St. Albert's Dream:
"Mandatory compilation containing no fillers and fiercely representative of my beloved heavy psychedelic genre. Crude, raw and uncompromising, what else?"-- GAZHOO117, rateyourmusic
"This is a fantastic compilation of obscure 45's, and unreleased archival material. No duff tracks, everything in the pocket as it were. This to me anyway, is the perfect type of compilation. All non-album tracks, superb music, and all very hard to find." -- ashratom, unencumberedmusicreviews.blogspot.com
Concrete # 1 - Ken Boe (Featuring Milo Mars)
Got To Get Away - Frozen Sun
Makes Me Wanna Hollar - Osceola
Blue Sea Circus - Greylock Mansion
That's My Baby - Butter
Witchcraft - Merriday Park
It All Comes Back - Gidian's Bible
Heat - The Fabulous Fish
In The Desert - Ark
Something Happened - Hindenburg Lyon
Underground Purple - Result's Of Adult's
Hey Jim - S.O.S.
---
Share this Product
---