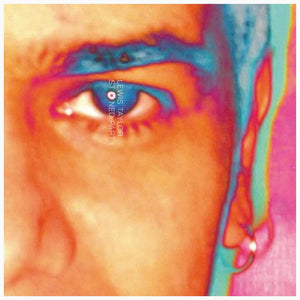 Lewis Taylor
Stoned Part I: Double Vinyl LP
BEWITH139LP
Regular price
$37.00
$0.00
Unit price
per
Tax included.
Shipping
calculated at checkout.
Pre-Order Item. Release Date Subject to Change.
Label: Be With
Release Date: 16th June
The British D'Angelo? Lewis Taylor just oozes such a 'good lord that's insane' funk. Dunno if there has been any finer future funk player from this isle than Lewis Taylor.
2023 first time vinyl issue, 140g double vinyl, updated artwork.
Stoned Part I was the first self- released album from lost soul phenomenon Lewis Taylor. His third album proper, it was
initially released on his own label Slow Reality in 2002 and it's been licensed to Be With for this long-awaited double LP release, its first ever vinyl edition. The songs are varied, hook filled and outstanding. Beloved by his legions of diehard fans, it's nothing short of a masterpiece.
After parting ways with Island, and without a label deal, Lewis went back to his home studio and began to record Stoned Part I in 2001. Co-written and co-produced with longtime collaborator Sabina Smyth, Lewis sings and plays all the instruments on this beautiful, emotional and very human album. It represents Lewis at his most accessible and finds him in the middle ground between his two Island releases. In some ways, Stoned Part I distills the best of his musical sensibilities. The flawless production is dense, layered and very early-2000s slick. The bottom end is thick, funky and sexy.
The complex, proggy-soul of title track "Stoned" opens the album and instantly captivates. Deep swinging funk with truly sweet soulful vocals, complemented by wah-wah guitar and swelling acidic synths. As Lewis himself told us, the ad libs at the end of the track were a nod to Paul McCartney at the end of "Hey Jude". Fan favourite "Positively Beautiful" has shades of Curtis and Marvin; its richly layered harmonies propelled by a simple, metronomic click-track that gives way to a more fully fleshed beat for the magnificent coda.
The slow, sweeping majesty of "Lewis IV" is all moody atmosphere, featuring dense, richly textured music and heavenly multi-tracked harmonies. The stop-you-in-your-tracks incredible "Send Me An Angel" could have been a huge AM radio hit, beautifully crafted sophisticated soul-pop songwriting in the vein of the very best Sade records. Yep! *That good* The smooth, psychedelia-lite "Til The Morning Light" is a gorgeous, sun-dappled love song, layered with Lewis' distinctive honey drenched vocals and, again, the type of record you could've easily heard all over the radio at the time of initial release.
The remarkable, wide-eyed "Shame" packs so many shifting styles into one song, it has to
be heard to be believed. Opening in a laconic, breezy style, not unlike a Dallas Austin or Rodney Jerkins produced R&B hit of the day, it morphs into a heavy psych-soul Soulaquarians wig-out (the solo bearing an uncanny resemblance to Carlos Santana's on "She's Not There") before elegantly sliding into string-assisted symphonic soul and then back around again. And again. Sheer brilliance. The sublime, gentle head-nod funk-soul of "When Will I Ever Learn" (Part 1) is a strikingly well-turned-out tune, a neat, sweet bass- driven guitar-soul jam that ensures our jaw won't be leaving the floor anytime soon. "Lovin' U More" sounds like a classic turn-of-the-century Neptunes production, the likes of which they'd lay on for JT BITD. A Latin-tinged groover with more than a little Nile Rodgers- driven slick funk stylings, it's yet another instant Lewis bomb with those gorgeous harmonies and chart-friendly irresistible key-changes to boot. Another indisputable (non- )HIT!
The funky seductive swagger of "From The Day We Met - Part II" opens the final side of wax, giving way to the gigantic buzzing synth-funk beast "Lovelight", a track so insouciantly mighty it should have been a massive hit for someone. Wait, what's that? Robbie Williams covered it? Ah, OK, well, I guess that says something about the effortless pop genius contained within. Containing a seemingly unnoticed nod to Kraftwerk's "Computer World", it's Lewis's favourite song on the album. It's easy to hear why: "Sabina's production totally nails it. I love the restraint and the subtlety, and that mixture of warmth and sweetness from the singing against the slightly cold, yet beautiful airy-ness of the backing track." To close this phenomenal album, the twisted electronic soul of "Sheneverdid" marries Lewis's beautiful falsetto to his virtuoso playing and an easy-cum- ominous musical backdrop. Stunning.
Simon Francis's vinyl mastering, approved by Lewis himself, presents the eleven tracks over a double LP so, as ever, it sounds sensational. The records have been cut by Cicely Balston at Air Studios and pressed at Record Industry. Allow Lewis Taylor to get you Stoned.

Tracklist:
A1 - Stoned Part I (4:51)
A2 - Positively Beautiful (4:24)
B1 - Lewis IV (3:53)
B2 - Send Me An Angel (4:36)
B3 - Til The Morning Light (4:08)
C1 - Shame (4:24)
C2 - When Will I Ever Learn - Part I (4:40)
C3 - Lovin' U More (4:14)
D1 - From The Day We Met - Part II (4:43)
D2 - Lovelight (4:53)
D3 - Sheneverdid (4:49)
---
Share this Product
---