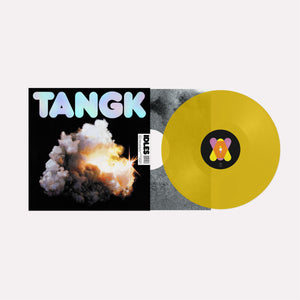 IDLES
TANGK: Deluxe Vinyl LP
PTKF3041-8
Regular price
$31.00
$0.00
Unit price
per
Tax included.
Shipping
calculated at checkout.
Pre-Order Item. Release Date Subject to Change.
Label: Partisan
Release Date: 16th February
Bringing a little bit of joy with a fist of heavy.
TANGK is the righteous and vibrant fifth album from madcap truth-seekers, IDLES. Pronounced "tank" with a whiff of the "g" - an onomatopoeic reference to the lashing way the band imagined their guitars sounding that has since grown into a sigil for living in love - the record is the band's most ambitious and striking work yet. Where IDLES were once set on taking the world's piss, squaring off with strong jaws against the perennially entitled, and exercising personal trauma in real time, they have arrived in this new act to offer the fruits of such perseverance: love, joy, and indeed gratitude for the mere opportunity of existence.

A radical sense of defiant empowerment radiates from TANGK, co-produced by Nigel Godrich, Kenny Beats, and IDLES guitarist Mark Bowen. Despite his reputation as an incendiary post-punk sparkplug, frontman Joe Talbot sings almost all the feelings inside these 10 songs with hard-earned soul, offering each lusty vow or solidarity plea as a bona fide pop song—that is, a thing for everyone to pass around and share, communal anthems intended for overcoming our grievance.

TANGK is a love album—open to anyone who requires something to shout out loud in order to fend off any encroaching sense of the void, now or forever.

01. IDEA 01
02. Gift Horse
03. POP POP POP
04. Roy
05. A Gospel
06. Dancer
07. Grace
08. Hall & Oates
09. Jungle
10. Gratitude
11. Monolith
---
Share this Product
---