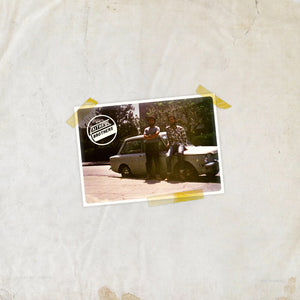 The Faithful Brothers
The Faithful Brothers: Vinyl LP
MMM008VL
Regular price
$28.00
$0.00
Unit price
per
Tax included.
Shipping
calculated at checkout.
Pre-Order Item. Release Date Subject to Change.
Label: Legere
Release Date: 15th September
I didn't know there's a Northern Soul scene in Tel Aviv but here's the Faithful Brothers with one of the most legit foot stomping, air kicking, talcum flying and body spinning high energy soul sounds around. We only mess around with modern Northern Soul if it captures what today is an almost impossible energy to bottle but this record really hits the spot.
Is there a Northern Soul scene in Tel Aviv? The surprising answer is – yes, there is. If you're a soulie and in town, look for the Tel Aviv Soul Club, and you might find yourself swaying across a talcum-powder covered floor to Tel Aviv's own unique blend of classic Northern Soul 45s and early 1960s R&B sounds.
Chances are that those 45s will come out of the record boxes of one of the brothers Neeman, Johnnie and Bin. Sons of an Israeli diplomat, they travelled abroad extensively as children, in the 1960s and 1970s, discovering the wonderful world of rare soul music on the way. Tel Aviv Soul Club, aka TASC, is the brainchild of Yashiv Cohen, a DJ who, in 2006, lured the brothers Neeman, whose massive soul collections been hitherto confined to their respective living rooms, into playing their records to the Tel Aviv public. Yashiv is also the lead singer of Men of North Country (MONC), a Tel Aviv band with a distinct sound, blending rock, British pop and soul, that has recorded two albums for the London based label Acid Jazz Records, and toured Europe numerous times.
Since Neeman means Faithful in Hebrew, Yashiv woke up one morning with the crystallization that MONC must create a spin-off, a more puristic soul band, called the Faithful Brothers. There the biological Neeman/Faithful brothers would be joined by some of the members of MONC and a few more musical brothers from Tel Aviv to create new, original soul and R&B music. With a nod to the Northern Soul slogan "Keep The Faith", the name seemed too perfect to waste. The fact that the Neeman brothers were collectors, and not musicians, did not bother a man of vision like Yashiv. One day, he sent Johnnie some lyrics he wrote, asking him to compose music for it. Well, Johnnie called Bin, and they met in Johnnie's record room. With Johnnie playing some of the few chords he knew on his dusty old acoustic guitar, out came Teenage Frost, the first-ever musical composition of the Neeman brothers, recorded by MONC.
It took a few more years, but gradually the brothers succumbed to their fate, to continue their musical progression, from collectors to DJs to musicians. Johnnie took his guitar, Bin took to the piano, and the brothers began pouring out some of their influences, creating new songs. It is finally all coming together. The Faithful Brothers – now an eight-piece band, complete with a mighty brass section – release their first album "The Faithful Brothers".
---
Share this Product
---