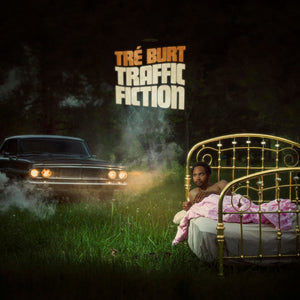 Tré Burt
Traffic Fiction: Vinyl LP
OBR078EXC
Regular price
$25.00
$0.00
Unit price
per
Tax included.
Shipping
calculated at checkout.
Pre-Order Item. Release Date Subject to Change.
Label: Oh Boy Records
Release Date: 6th October
Tré Burt's add some hip shaking country soul rockers to his repertoire, always a great raconteur and dab hand at making a track that connects instantly. It's a record that's inspired by childhood car rides, which is sound because this is a collection of tracks that burst from the radio and have you tapping the wheel on first listen.
The most potent memories I have of music are from my early childhood listening to the oldie's station, riding in the back of my Pops' 1975 Cadillac Seville to work alongside him moving plants in Sacramento at the now long gone Capitol Nursery during white hot summer afternoons, and then the drives back home in the purple twilights and oily blue- oranged nights. I'm talkin' The Temptations, War, Earth Wind and Fire, Al Green, Sly and the Family Stone, The Delfonics, Stevie Wonder, Chaka Khan...soul music. I loved the melodrama of it all. The world outside refracted and transmuted through the crackling speakers past Pops' thumping thumb and my tiny whirring mind and left whatever road behind us fundamentally changed in our wake. Through the years other sounds too left its imprint well before I picked up a guitar. Rap, Punk, hardcore, dub, R&B--and a little later in middle school, blues, folk and country. But those early Cadillac memories always remained the bedrock. With folk and blues music, I fell in love with the immediacy of it and found the acoustic guitar economical for all the solitary roaming of my early 20's. All the while I knew that one day, when I had something I felt like I could add, I wanted to incorporate the sound of those early Cadillac memories. But only after I felt established as a songwriter in its most simple form, banging on a wooden guitar and yodeling up some melody did I feel comfortable exploring other sounds and only recently did I find the time and space to do that. The pandemic trapped all the world in their rooms. While recording my last record in the height of it and at the behest of my friend and You, Yeah, You producer Brad Cook and his friend Justin Vernon, I bought my first keyboard. A Roland Juno DS. I started tinkering on it throughout the past couple of years and as I became more stationary started writing songs on different instruments that I accumulated. Layering sounds on garageband in my apartment writing bass and horn parts, making drum loops, adding synth... I became pretty obsessive with the endless possibilities it brought and got quicker and quicker at making songs that way. It was just so fun and limitless. All the while the world never stopped plotting. Threats of nuclear war, A.I. surveillance, the age of misinformation etc. My personal life changed too. I moved to Nashville, became the new kid on the block, wrestled with public attention, fell in love, got my heart broke and became incredibly busy as a "professional" touring musician. Most importantly I witnessed the slow death of my Pops, the king of soul, Tommy Lee Burt. As it became time to start writing for my 3rd LP for Oh Boy Records and figuring out how I wanted to express all that has happened since YYY, I decided it was time to try and embrace that old Cadillac sound from my childhood. Do the sound my way, fuse it with my other aforementioned musical influences and use that for the modicum of the record. I decided to write an album that says, "Sure, the world is fucked and the evil overlords may very well destroy it, but that's none of my bussiness and I choose love and rock and roll, baby". The demo versions of these songs and the way I wanted them to sound were already pretty spelled out with me playing all the instruments on them (of questionable quality) so, scared shitless, it dawned on me that to get this sound across I had to take the seat of co-produce for the first time and record this album with someone I could easily communicate ideas with, meet the songs where they're at and then elevate them to a higher level and that happened to be with my good friend and neighbor Andrija Tokic. The result is Traffic Fiction.
---
Share this Product
---