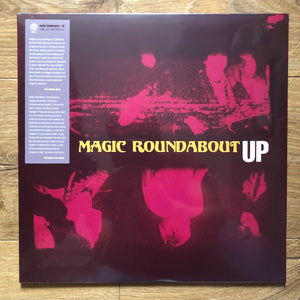 Magic Roundabout
Up: Vinyl LP
TMR710
Regular price
$25.00
$0.00
Unit price
per
Tax included.
Shipping
calculated at checkout.
Label: Third Man Records
Release Date: 15th October
Few joys in this music discovery game than a hidden gem from yesteryear, something completely forgotten and discarded only for some musical prospector to hear a glimmer of gold and feverishly hunt down the bounty. After hearing the lofi paisley painted velvets jangle of Magic Roundabout's only known single 'She's A Waterfall' Dave Buick of Third Man Records became hellbent on hunting down the unknown discography from a group of bowlcut Mancunian teenagers. This is indie at it's purest in that you find yourself fascinated by its simplicity but subtle ambition and before you know it, you're making DIY Magic Roundabout patches in your spare time. 
For those who dig: The Paisley Underground acts, first album Primal Scream and Bobby standing up drumming JAMC, The Raincoats, Life Without Buildings...
Third Man Records is very proud to announce Up, the first-ever LP from criminally-unheard Manchester noisemakers Magic Roundabout. Up is due September 24, 2021 and is heralded by dreamy lead single "She's A Waterfall" and its accompanying video.

"I walk in to the studio, Warren [Defever] is working away," Third Man Records' Dave Buick says about the label's introduction to the group. "Feedback, hypnotizing bass line, perfect female vocal harmonies and a drummer so minimal you just know they are standing coming out of the speakers. All I could see was stripes and paisleys. I became instantly obsessed with tracking down this mystery band's complete discography. 'They don't have a discography you say?' Just like that my obsession had become dangerous and unhealthy."

Like so many other disenfranchised kids in the heady days of mid-eighties United Kingdom, Magic Roundabout came armed with leather jackets, charity shop instruments, singles by The Fall and Buzzcocks, good haircuts, a healthy VU obsession and a little psychedelic inspiration. Influenced into existence at early gigs by The Jesus and Mary Chain and Shop Assistants, The Roundies wanted to change the world or at the very least make some noise, shake things up and be a part of the happening.

The gang established a clubhouse in early 1986 and began rehearsing, recording and gigging. Playing a ton of legendary shows with the likes of The Pastels, The Blue Aeroplanes, Spacemen 3, Loop, My Bloody Valentine, Inspiral Carpets and picking up a bunch of fans along the way. Rumor has it that Noel Gallagher roadied their final show.

There was one song released - "She's a Waterfall" Parts 1 and 2 on Mark Webber's (Pulp) Oozing Through The Ozone Layer cassette compilation - and that's it. There were also talks of a flexi-disc that, for whatever reason, never saw the light of day. But by the end of the 80s, the gang had all gone their separate ways and the recordings along with so many other things were thought to be lost forever...

Now, these 1987 recordings recently unearthed by Ian Masters (Pale Saints) and Third Man Records and given the "treatment" by Warren Defever are presented to you lucky ones as the debut album by Magic Roundabout. 34 years too late or perfectly steeped and presented at just the right moment in history? Tune in, turn on and make up your own mind. Enjoy the trip.

"Magic Roundabout: The mysterious missing link between The Velvet Underground and pragVEC. How did the music industry miss these talented teenagers? They were fucking idiots, that's how. From super-catchy pop songs to ambitious 20-minute improvisations, the band had everything but a recording deal. Ambitious live performances where friends were satisfied with spitting out fluff often forgotten in 2 and a half minutes. Finally, the tape that was thought to have been lost was discovered during a search for a lost newborn in Manchester's slums, is now being remastered and presented for everyone to hear. You lucky lucky mofo's..."

-Ian Masters (Pale Saints)
Side A
1. Carol In Your Eyes
2. Cast Your Sadness Away
3. She's A Waterfall
4. Sneaky Feelin'
5. Up
Side B
1. Alice's Paperplane
---
Share this Product
---