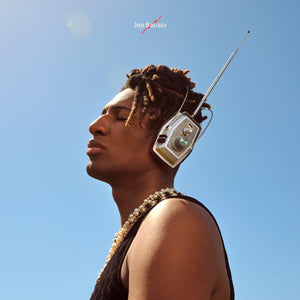 Jon Batiste
World Music Radio: Vinyl LP
5582282
Regular price
$43.00
$0.00
Unit price
per
Tax included.
Shipping
calculated at checkout.
Pre-Order Item. Release Date Subject to Change.
Label: Decca
Release Date: 18th August
Jon Batiste may be the best musician in the world, I don't know? I think he could make the best record in whatever genre he wants, just one of those dead good musicians, with a good voice and able to make pop songs so easily, you get the feeling it bores him. This record has both Kenny G and Lil Wayne as features, which is super fun. The single 'Calling Your Name', which I've featured below, is a super infectious Stevie Wonder disco harmonica groover and I'll likely spin the living daylights out of that but I dunno, the other single 'Be Who You Are (Real Magic)' is a kind of cod reggae that borders on pure audio torture yet it feature JID, who is incredible. Think this will be incredible and questionable in equal measure, guess just like listening to the radio.
Multi-GRAMMY® and Oscar® winner Jon Batiste invites the world to experience the marriage of hard hitting pop songs to a rich tapestry of international sounds on his highly anticipated album, World Music Radio. Jon Batiste delves into the profound question: Isn't all music, in essence, world music? Drawing inspiration from Batiste's mission to create community with the power of music, this album serves as a sonic passport for listeners' ears, inviting them on a transformative musical journey meant for everyone.
Collaborators include GRAMMY-nominated producer Jon Bellion as well as renowned artists such as Lil Wayne, Lana Del Rey, Kenny G, Fireboy DML, J.I.D, Camilo, NewJeans, and more. Together, they transcend the confines of traditional genres, blurring sonic boundaries and effortlessly transforming a Tuesday morning into a Saturday night.
1. Hello, Billy Bob
2. Raindance (ft. Native Soul)
3. Be Who You Are (ft. J.I.D, NewJeans, Camilo)
4. Worship
5. My Heart (ft. Rita Payés)
6. Drink Water (ft. Jon Bellion, Fireboy DML)
7. Calling Your Name
8. Clair De Lune (ft. Kenny G)
9. Butterfly
10. 17th Ward Prelude
11. Uneasy (ft. Lil Wayne)
12. CALL NOW (504-305-8269) (ft. Michael Batiste)
13. Chassol
14. BOOM FOR REAL
15. MOVEMENT 18' (Heroes)
16. Master Power
17. Running Away (ft. Leigh-Anne)
18. Goodbye, Billy Bob
19. White Space
20. Wherever You Are
21. (Bonus track) Life Lesson (ft. Lana Del Rey)
---
Share this Product
---