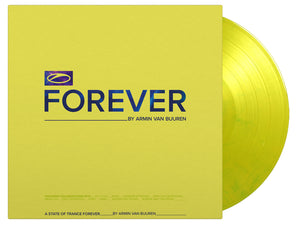 Armin van Buuren
A State Of Trance Forever:Yellow & Green Numbered Double Vinyl LP
MOVLP3099C
Regular price
£31.00
£0.00
Unit price
per
Tax included.
Shipping
calculated at checkout.
Pre-Order Item. Release Date Subject to Change.
Label: Music on Vinyl
Release Date: 2nd September
• 180 GRAM AUDIOPHILE VINYL
• GATEFOLD SLEEVE
• 2021 ALBUM FEATURES EXTENDED VERSIONS ONLY,
INCLUDING ASOT 1000 ANTHEM "TURN THE WORLD INTO
A DANCEFLOOR" AND BONUS TRACK "HOME WITH YOU
(ARMIN VAN BUUREN PRES. RISING STAR REMIX)"
• FEATURING SANDER VAN DOORN, RANK 1, PAUL
OAKENFOLD, ALY & FILA, PUSH, JORN VAN DEYNHOVEN,
GIUSEPPE OTTAVIANI A.O.
• AVAILABLE ON VINYL FOR THE FIRST TIME
• LIMITED EDITION OF 3000 INDIVIDUALLY NUMBERED
COPIES ON YELLOW & GREEN MARBLED VINYL

It has become almost impossible to overlook the impact that Armin van Buuren's globally syndicated A State Of Trance radio show has had over the years. Across two decades and a thousand episodes, the show's following steadily grew into a weekly audience of 40 million fans from over eighty different countries. Both Trance music and the entire A State Of Trance brand are here to stay, and Armin van Buuren's brand-new, collab-packed A State Of Trance Forever album boldly underlines that notion.

Opening with the official ASOT 1000 Anthem "Turn The World Into A Dancefloor", the album A State Of Trance Forever has some of most appreciated trance artists shining alongside Armin van Buuren, including Sander van Doorn, Rank 1, Paul Oakenfold, Aly & Fila, Push, Jorn van Deynhoven and Giuseppe Ottaviani.

A State Of Trance Forever features 13 tracks, all extended versions, including the bonus track "Home With You" (Armin Van Buuren Pres. Rising Star Remix). The album is available on vinyl for the very first time as a limited edition of 3000 individually numbered copies on yellow & green marbled vinyl, housed in a gatefold sleeve.

SIDE A
1. Turn The World Into A Dancefloor (Asot 1000 Anthem) (Extended Mix)
2. Divino (Extended Mix) (featuring Maor Levi)
3. Jonson's Play (Extended Mix) (featuring Sander van Doorn)

SIDE B
1. The Greater Light To Rule The Night (Extended Mix) (featuring Rank 1)
2. Sirius (Extended Mix) (featuring AVIRA)
3. Sonata (Extended Mix) (featuring Paul Oakenfold)
SIDE C 
1. For All Time (Extended Mix) (featuring Aly & Fila & Kazi Jay)
2. Let Go (Extended Mix) (featuring Tom Staar & Josha Daniel)
3. In The Dark You Shine (Extended Mix) (featuring Push)
SIDE D
1. Lost In Space (Extended Mix) (featuring Jorn van Deynhoven)
2. Magico (Extended Mix) (featuring Giuseppe Ottaviani)
3. Home With You (featuring Susana)
4. Home With You (Armin van Buuren pres. Rising Star Extended
Remix) (featuring Susana)


---
Share this Product
---