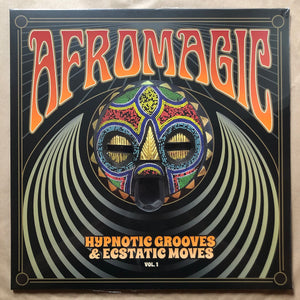 Various Artists
Afromagic VOL: 1: Hypnotic Gooves & Ecstatic Moves: Vinyl LP
EVERLANDAFRO004LP
Regular price
£25.00
£0.00
Unit price
per
Tax included.
Shipping
calculated at checkout.
Label: Everland
Release Date: 27th October
Killer compilation of dynamite Afro-funk, lo-fi synth jammers, heavy and insatiable bass groovers, dub delights and Afro Rock soul fire. Perfect DJ'ing out comp.
* The new afrofunky phonomancer's DJ tool, especially mastered for clubs!
* 44 minutes of deep Dancefloor Jams of African Disco, Funk, Boogie, Reggae & Proto House Music 1976-1981
* Every song is a deep dig and serious Dancefloor burner - NO fillers!
* BPM for all songs written on sleeve and labels, for quick DJ action
* First volume of a new series on Everland Afro, dedicated to extraordinary 70s and 80ies african club music
* Limited edition in stunning psychedelic sleevedesign
_______________________
When a passionate DJ and crate digger intuitively selects music for a DJ compilation, without artistic compromise and without the burden of trends, AfroMagic vol.1 emerges from the depths of his soul. Herewith we present the new favorite phonomancer's tool for all the DJs who experience the dance floor as a sanctuary and a source of freedom and love.
The most fundamental thing that defines African music is
 

that it was created for dancing. In African dance, there is often no clear distinction between ritual celebration and social recreational entertainment - one can seemlessly merge with the other. Because dance and rhythm have more power than gesture and more richness than words, and because they express the deepest experiences of human beings, dance is in itself a complete and self-sufficient language. It is truly an expression of life with all of its emotions – joy, love, sadness and hope – without which there is no African music and dance. For the African people, dance and music are integral parts of the body and soul, thus depicting the expression of life, current emotional states, visions or dreams. Through hypnotic repetitive music and dance, people communicate with each other and with the souls of the dead, the animals, the plants, the stars, the Gods… They free the body and the spirit through ecstatic states, reaching a healing sense of freedom, happiness, and satisfaction.
Throughout history, this transcendental perception of rhythm and dance originating from Africa, influenced popular music worldwide, thus creating new living and breathing forms of musical genres – freeing them from their industrial mold. Funk, disco, soul, boogie, reggae, dancefloor jazz etc., developed in parallel all over the world. It is foolish to perpetually discuss where they originated from and who were the creators of all these fiery dance floor genres – being obvious that they directly or indirectly originate from the African continent and its people who were as well, over the centuries, influenced by disturbing socio-cultural factors of colonialism. However, no one can enslave the soul. The seeds of free and uninhibited dance and rhythm, true to their original form, initially first sprouted onto the USA's fertile fields of clubbing and popular music while later evolving in other parts of the world.
The disco funk club culture manifested itself as a phenomenal explosion of artists and grooves in the second half of the 70s in the USA. Shortly it spread around the world continually reigning over charts in its various forms – to this day. Clubs emerged where the DJ is an almighty shaman and the dancers are a tribe united under one roof. This urban ritual had and still has a single goal: togetherness, freedom, and love. Clubs have evolved into temples where we free ourselves from the burden of consumerist lifestyle and suppressed emotions - a place where we receive love and give love – to be who we really are.
Disco funk clubbing was such an influential global phenomenon that its influence can be observed in various other genres from the disco funk era i.e. progressive rock, which mutated by layering complex rock arrangements with a disco funk groove resulting in hybrids, highly sought by today's diggers, producers and collectors.
The profit-hungry music industry of the 80s very quickly commercialized the original disco funk sound by amputating it of its original Afro groove to be able to easily 'sell' it globally. So, the original disco funk groove became underground again, and it has remained so until this day. Today, for a DJ to unearth that ravishing groove that will lead the dancers to the stars, he must dig passionately like a true musical archeologist in search of that groove that picks you
up after just a few initial beats. That groove which forces the atoms in your body to vibrate, that groove which unites the body and releases the burden.
The selection of songs on the AfroMagic compilation is focused on African club music created in the second half of the 70s and early 80s, when it was at its peak, especially in West Africa. The funk, soul, disco, boogie, RnR, jazz and reggae were entranced at one point by African culture and magic. Considering that, unfortunately, the African continent always lagged in technological progress due to constant colonial weight and theft – new electronic instruments (synths, effects, etc.) were employed rather naively by local musicians who weren't following default rules dictated by the industrial pop culture. It is in fact this that gives the AfroMagic compilation that special quality and uniqueness – because the music presented here was created without any restrictions or influence of capitalism.
The compilation opener, Jungle Magic by Benis Cletin, hitting us from the start with an acidified loud synth, sounding like a space helicopter mixed in with a slow 4/4 kick, indicates the progressiveness and freedom that forms the basis of the AfroMagic compilation series. Soon after the wackiness of Jungle Magic, Joe Kemfa takes us to the very center of African clubbing with his band Aura. A chorus of chanting female singers, heavy lofi modulation paired with a murky groove and dreamy synths in an unconventional arrangement – bringing forth the smells and images of intoxicated clubbing hedonism of the 70s West Africa. Felix Lebarty finally breaks out of the intoxicated atmosphere of Joe Kemfa and switches back to the original recipe – repetitive funk & afrobeat grooves interspersed with dirty RnR licks and solos that simply make you close your eyes and fly away. Goldfinger Doe & B.M.S. close the A-side in an anthemic manner with synth tribal funk, which at one point polymorphs into a scorching hot Latino groove that enthusiastically rocks the dancefloor.
The B side, with a slightly different progressive concept, is opened by the great Geraldo Pino.
A mutant reggae riddim song based on a fat groove with Geraldo telling us directly and humorously about his 'problem' – wife with an insatiable sexual appetite. On B2 Joe Moks raps
like a rhythm machine on top of a repetitive psychedelic disco groove. The lyrics, 'Boys and Girls
let's groove on together', will stay with you and ring for a long time. A special AfroMagic moment you'll fall heads over heels instantly is '10 years of love' by Danny Offia and the Friks. This song vividly displays influences from the early House music developments originating from the USA, making this number an authentic representative of the Afro proto house sound from the early 80s.
The last song on the B side by the BLO band, with its pop disco sensibility, ends the first volume of the AfroMagic compilation in style – as per any DJ set of value and significance.
The AfroMagic series of compilations was created with the goal of being used as a tool for real DJs who stick to the aesthetics and essence of clubbing.
---
Share this Product
---