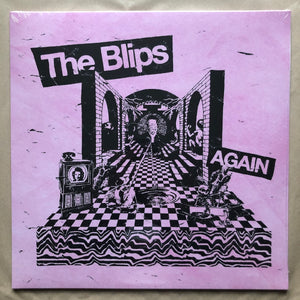 The Blips
Again: Vinyl LP
CCR68LP
Regular price
£17.00
£0.00
Unit price
per
Tax included.
Shipping
calculated at checkout.
Label: Cornelius Chapel Records
Release Date: 17th November
You know we're suckers for the hiccupy power pop rock n roll over here, something with a sense of a Tom Petty rock n roll meets the new wave of The Cars but with some sweet country swagger subtly giving things a swing. This record is a pumping dopamine charging delight.
For those who dig: Big Star, EZTV, The Toms, Shoes, 2nd Grade, Tony Molina, Tom Petty and the Heartbreaker's debut...
he Blips self titled debut, 'The Blips', struck lightning when Little Steven's Underground Garage declared "Inside Out" The Coolest Song In The World in the spring of 2021.
And here we are with The Blips, 'Again'. Back with more boogie, beast and beauty
This band swaggers like The Stones, Haggards like Merle, and snots like Mike Ness. 'Again' carries you on a not-too-long trip through a varied landscape of far out, well made and dusty rock songs that stick to your black boots and go with you when you go.
While there are four different lead singers and writers throughout this album, it is apparent 'Again' is executed by a band, rather than disparate musicians playing along on a track in a cold studio. A band that sweats.
The Blips haven't "grown" or "matured" with their "sophomore effort" --These ideas don't apply to the Blips. The band is wholly made up of veteran front men of some of the most revered bands of the Birmingham rock scene. Making records is what all of these guys do on the regular. Once upon a time, The Blips came together, rose above, braved the elements, forced the issue, carried the weight and dealt with the demons that require the making of a record. And now they have done it . . . 'Again'.
---
Share this Product
---