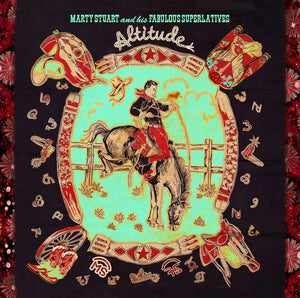 Marty Stuart and his Fabulous Superlatives
Altitude: Translucent Blue Vinyl LP
2448325044
Regular price
£23.00
£0.00
Unit price
per
Tax included.
Shipping
calculated at checkout.
Pre-Order Item. Release Date Subject to Change.
Label: Snakefarm
Release Date: 28th July
Country music, innit, straight up 'BIG C' Country. Not Americana, not Alt-Country and not earnest rural country, just straight up lap-steels, locomotive drum rhythms, some romantic yearning and little bit of letting rip to the point you may want to get one of those shiny tassel shirts, some tacky-clean cowboy boots and maybe get line-dancing. Marty Stuart is Country Music Hall of Fame, he can spin a yarn and get any bar moving - prime country music, this.
Five-time GRAMMY winner, Country Music Hall of Famer and AMA Lifetime Achievement Award recipient Marty Stuart announces his new album, Altitude, will be released on May 19 via Snakefarm. The announcement of his first new album in more than 6 years finds Stuart on the heels of a string of professional and personal achievements in an already unprecedented career. Late last year, Marty Stuart and His Fabulous Superlatives were inducted into the Musicians Hall of Fame and he celebrated his 50th year in Nashville and 30th anniversary as a Grand Ole Opry member. In December, Stuart and his wife Connie Smith kicked off the grand re-opening of the historic and recently renovated Ellis Theater in his hometown of Philadelphia, Mississippi, which Stuart has been working to re-open for seven years as part of his Congress of Country Music.

"I've been quoted as saying the most outlaw thing you can possibly do in Nashville, TN, these days is to play country music. It can be done," Stuart explains. "On Altitude, there's twin fiddles, steel guitar, and the legendary Pig Robbins playing piano on what turned out to be one of his last recording sessions. The song is a reminder to me, and to anyone else still interested, that there's a few of us out here who still know how to make authentic country music. I have an absolute belief that there's a world of people out there who still love it, as my wife Connie Smith says it's the 'cry of the heart,' Harlan Howard said 'it's' three chords and the truth' - that's country music."

Recorded in Nashville with his longtime band The Fabulous Superlatives – Kenny Vaughan, Harry Stinson and Chris Scruggs – the collection finds Stuart picking up where he left off on 2017's Way Out West, exploring a cosmic country landscape populated by dreamers and drifters, misfits and angels, honky-tonk heroes and lonesome lovers. Written primarily on the road, the collection was inspired in large part by Stuart's 2018 tour supporting Byrds co-founders Roger McGuinn and Chris Hillman, who reunited for the 50th anniversary of their seminal Sweetheart Of The Rodeo album.

"I bought my first copy of Sweetheart Of The Rodeo for $2.99 at the discount bin in a shopping mall record store in Goodlettsville, Tennessee, and it became the blueprint for my musical life," Stuart recalls. "Revisiting it on the road with Roger and Chris put me back under its spell all over again. I was writing songs in dressing rooms and soundchecks and on the bus, and then one day, I looked up and there was enough to make an album."

"I've always loved songs that feel like old friends but still sound new and fresh," says Stuart about Altitude. "The beautiful thing about country music is that the blueprint Jimmie Rodgers laid down—rambling, gambling, sin, redemption, Heaven, Hell—it's all just as relevant now as it ever was. It's the human condition, and if you're honest about it and you've got a real band around you, you can make something that's uniquely yours and stands the test of time."


---
Share this Product
---