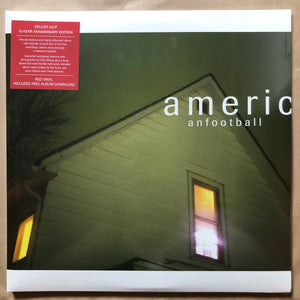 American Football
American Football (Deluxe Edition): Red Double Vinyl LP
PRC276LP
Regular price
£30.00
£0.00
Unit price
per
Tax included.
Shipping
calculated at checkout.
Label: Polyvinyl
Release Date: 27th October
An album that launched a thousand bands, gets yer right in those feels don't it? Those guitars have been studied by doctors to take your mind to a nostalgic wonderland of summers with friends, love and heartbreak and thinking about the future. Still hits.
In the 15 years since its release, American Football's self-titled debut full-length has quietly become one of the most fiercely beloved titles in the Polyvinyl catalog. Though the trio -- Mike Kinsella (Cap'n Jazz, Owen, Owls), Steve Lamos, and Steve Holmes -- only played a few shows and released just one other record (a three-song EP that preceded this full-length), their influence and legacy has steadily continued to grow in the time after they disbanded.

From its now iconic artwork to the band's unique songwriting approach (highlighted by an emphasis on shifting time signatures and sincere lyrics), American Football proves a record doesn't become a true classic through flashiness or catering to trends, but rather the deep emotional connection it forges between the music and the listener.


After guitarist Steve Holmes discovered a set of cassette tapes containing a variety of unreleased recordings, the band curated an album's worth of these rare live recordings, demos, and practice sessions (in which the group rehearsed material they never recorded elsewhere) to complement the original record.

Now available on 2LP, American Football (Deluxe Edition) features beautifully expanded packaging that incorporates new photographs from Chris Strong along with lyrics, detailed liner notes written by the band, and never-before-seen band pictures.

---
Share this Product
---