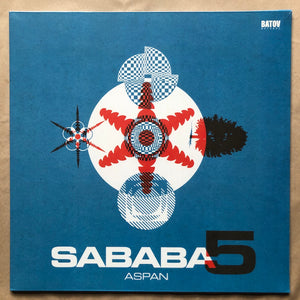 Sababa 5
Aspan: Vinyl LP
BTR86LP
Regular price
£20.00
£0.00
Unit price
per
Tax included.
Shipping
calculated at checkout.
Label: Batov Records
Release Date: 27th October
Sababa 5 follow-up their self-titled Middle-Eastern disco groove monster with some added psychedelic space library prog jams, it adds an extra dimension to their sound and in this shopkeeper's opinion is a finer record.
Sababa 5 continues their musical journey following the success of their acclaimed self-titled debut album, which fused deep funk and Middle Eastern grooves. Their latest offering, still under the Batov Records label, ventures into more explorative and experimental instrumental compositions. While evolving their musical direction, 'Aspan' delves into the realm of psychedelic rock while retaining the essence of the band's signature Middle Eastern groove.

In recent times, Sababa 5's talent has gained recognition on prominent French radio stations such as Radio Nova and FIP. Their tracks have become regular features on BBC Radio 6 Music, drawing the attention of notable figures and emerging talents like Gilles Peterson, Cerys Mathews, Jamz Supernova, Gideon Coe, and Deb Grant. Leading music publication "Songlines" has praised the band's "slick precision" and the captivating elements they infuse, ranging from "Moog synth licks" to "flavors reminiscent of Wes Montgomery-style guitar."

The album opens with "Wembley," radiating a summery festival vibe. The track kicks off with a distinctive guitar riff that drew parallels to classic stadium rock, inspiring its name after London's iconic ninety-thousand-seat venue. The track evolves with prominent organ and bass riffs, culminating in a surprising addition of an electric saz—a recent Istanbul acquisition—imbuing a Turkish touch that echoes the Indian sitar's influence on 60s rock, notably bands like The Beatles.

"Fa Sol La" follows suit, named simply after its bass-led melody. The lively drumbeat and catchy riffs exude an upbeat energy that's bound to induce joyous reactions from listeners. Around the two-thirds mark, a dreamy guitar interlude elevates tension before easing into a shift towards a more progressive and rhythmic direction.

The title track, "Aspan," takes its name from a nonexistent storm. The song impeccably showcases the band's cohesion, with guitar, bass, drums, and organ intricately locked into a mesmerizing groove. The origin of the title stems from a misinterpretation of an upcoming storm named Alpis that proved to be milder than anticipated. The name resonated, resulting in several tracks adopting storm-related titles.

Concluding the album is "Indra," a laidback composition that stands as its most serene offering. This track's fusion of psychedelic folk rock is poised to capture the hearts of many, serving as a poignant postscript to the bittersweet conclusion of summer—a narrative of love discovered and lost.

The expansive and captivating soundscape of 'Aspan' is set to attract a fresh wave of fans while fortifying the group's mastery of substantial grooves with a distinct Middle Eastern essence. With appearances already on European festival stages, the year 2024 holds great promise for Sababa 5, marking a significant chapter in the band's journey.
---
Share this Product
---