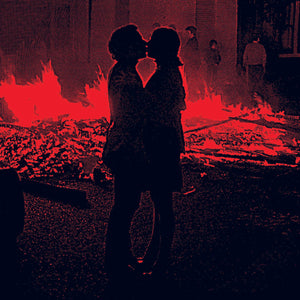 David Holmes feat. Raven Violet
Blind On A Galloping Horse: Double Vinyl LP
HVNLP219
Regular price
£30.00
£0.00
Unit price
per
Tax included.
Shipping
calculated at checkout.
Pre-Order Item. Release Date Subject to Change.
Label: Heavenly
Release Date: 10th November
David Holmes' first solo album in 15 years serves as a deconstruction and interrogation of the last decade, take the lead single 'Necessary Genius' where vocalist Raven Violet lists the great rebels, revolutionaries and challenging figures of yesterday either dead or faded. It's a tense but cathartic record full of the usual magpie like collection of sounds and genres you'd expect from Holmes.
Blind On A Galloping Horse serves as David Holmes' first solo album since 2008's The Holy Pictures.

A 14-track interrogation of the last decade, time spent watching a decaying, fraying Britain visibly buckling in real time while tending to his own battles with mental health. Holmes' soundtrack to this inquiry is at times claustrophobic, often euphoric, driven by the rattle and snap of analogue drum machines, wild oscillations of droning analogue synths and the voice of Raven Violet which beguiles and commands in a way that could part oceans.

On this record, there are songs of hope for an age of uncertainty; love songs to leap the barricades to and, on 'Necessary Genius', a comprehensive roll call of the great and good - those 'dreamers, misfits, radicals, outcasts' that we've lost and just a few who've managed to cling on in the churn of the 21st century. And there are elegiac electronics evocative of an endless Europe where pulsating, crackling rhythm tracks fuse with dreamlike textures and the underground pulse of psychedelic therapy to form something unique that feels nothing less than radical.


---
Share this Product
---