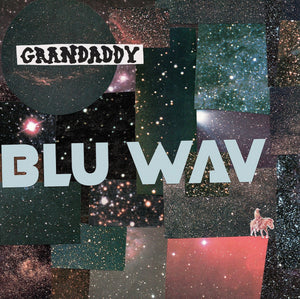 Grandaddy
Blu Wav: Nebula Vinyl LP
DGB2727
Regular price
£21.00
£0.00
Unit price
per
Tax included.
Shipping
calculated at checkout.
Pre-Order Item. Release Date Subject to Change.
Label: Dangerbird Records
Release Date: 16th February
The original indie cosmic cowboy returns with the Bluegrass/New Wave (Blu Wav...) record we've only just realised we've been waiting our whole lives for.
Legendary indie-rock band Grandaddy has announced a brand new studio album Blu Wav set for release February 16, 2024 via Dangerbird Records. A prolific storyteller, Jason Lytle is inspired by the overwhelming beauty of nature to the mundane moments that spark life's strongest memories. Introducing pedal steel into the band's repertoire for the first time, buoyant lead single "Watercooler" comments on the dichotomy of both. It was inspired by having his own outdoorsy rock guy (in both senses of the word) lifestyle while his partner had an office job. Lytle shares, "Most of my relationships have involved girls who worked in office settings. This song is about the end of one, or perhaps a few, of those relationships. Listeners will also notice the pedal steel on this track and eventually on many others from the forthcoming new album. It's a first for Grandaddy, and I couldn't be more thrilled about this fact."
With the album title Blu Wav meant to be a literal mash-up of "bluegrass" and "new wave", the new collection has a distinct feel, a uniform vibe, and a somewhat unexpected sound. It was conceived as Grandaddy maestro Jason Lytle was driving through the Nevada desert, and Patti Page's "Tennessee Waltz" came across the classic country station on the radio. He was immediately intrigued by the possibilities of what it might sound like to keep the slow sway and sweet, simple lyrics of the bluegrass waltz while adding layers of dense synthesizers and the electronics of new wave. It incorporates the lo-fi lushness and sometimes-psychedelic orchestration Grandaddy is known for with Lytle's first foray into true country. Seven of its 13 songs are waltzes, and as Lytle notes, "there's an inordinate amount of pedal steel."
Grandaddy recently celebrated their legacy with a series of 20th anniversary reissues including the acclaimed Sumday Twunny box set which earned a Pitchfork 'Best New Reissue". Lytle also contributed vocals to a posthumous Sparklehorse album by request of his friend and fellow psychedelic pop auteur Mark Linkous' family. Grandaddy has released five official LPs, most recently 2017's Last Place. Grandaddy members include Jason Lytle, Aaron Burtch, Jim Fairchild, Tim Dryden, and the late Kevin Garcia, who passed away in 2017.
---
Share this Product
---