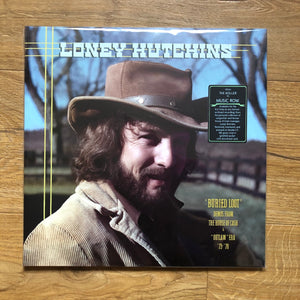 Loney Hutchins
Buried Loot - Demos From The House Of Cash And "Outlaw" Era, '73-'78: Double Vinyl LP
LPARCO006
Regular price
£28.00
£0.00
Unit price
per
Tax included.
Shipping
calculated at checkout.
Label: Appalachia Record Co
Release Date: 10th December
Born into poverty, Johnny Cash associate and then country music publishing mogul - Loney Hutchins has some stories to tell, he's exactly what country music is about hardship and attempts to overcome it... or not. Buried Loot is a collection of demos that sound anything but, featuring the finest Music City session players of the 70s we're talking prime Outlaw country with nods to 70s rock and crossover country of the late 60s.
For those who dig: Waylon and Willie, Johnny Cash, David Allan Coe... those lads.
From Hutchins's time managing the House of Cash publishing label in the 1970"s - In addition to his vas catalog of traditional country music, there are songs never before heard by Hazel Smith and Helen Carter, as well as Johnny Cash penned tunes recorded for the first time
Featuring an A-team of some of Music City's finest session players, 'Buried Loot' is a time capsule from an exciting era of creativity in country music. Digipak includes 8 page booklet with extensive liner notes and photos. Mastered by Grammy nominated engineer and archivist, John Baldwin.
Tracklist
Pinball King
Who's Gonna Be My Fire?
Paradise
Fool's Gold
Stoney Creek
One More Habit
Wouldn't Say It If It Wasn't So
Daughter of a Railroad Man 
I Do Declare
Nashville Suite
Every Day's a Monday
We Got It All
Four More Reasons
Whippoorwill
Whisky Lady
Taxi Please
Five Years In Hell
Committed to Parkview
Ya Gotta Live It
Hillbilly Ghetto
Reedy Creek
I'll Always Have the Good Lord Watching Over Me
Sheets of Green Clover
My Tennessee Hills
---
Share this Product
---