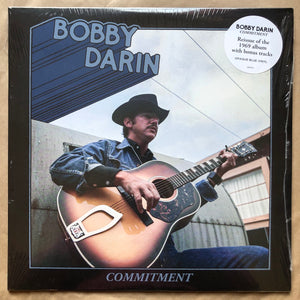 Bobby Darin
Commitment: Opaque Blue Vinyl LP
DR1937LPC1
Regular price
£27.00
£0.00
Unit price
per
Tax included.
Shipping
calculated at checkout.
Label: Direction Records
Release Date: 8th December
Look at ya Nan's boi, a man known for doing that finger clicking big band, winking and shooting a finger gun at the audience kinda crooner. Look at him going all country funk, check him out getting a bit down and dirty with some swampy country rnb and some sweet little folk pop, which you'd expect from those no good long-haired peace and love beatniks. EASILY the man's finest work.
Bobby Darin was, by any definition, a superstar – a chart-topping, multimillion-selling, Grammy Award-winning singer-songwriter, a Golden Globe-winning actor, visionary entrepreneur, and committed political activist. Restless and daring, his refusal to be constrained by genre, resulting in an endless string of top 10 hits, including "Splish Splash," "Queen of the Hop," "Dream Lover," "Beyond the Sea," and "If I Were a Carpenter."

While his public persona was all bright lights and glamour, Darin was driven and inspired by the generational shifts and social upheaval of the 1960s. Despite his weakened health, Darin devoted nearly all of his free time towards multiple causes, tirelessly campaigning for his friend Robert F. Kennedy until his assassination in June 1968, after which Darin withdrew from the spotlight and embarked on an unlikely personal journey. He swapped his crooner's tuxedo for folk singer denim, his toupee for an outlaw mustache, a Beverly Hills mansion for a secluded trailer at Pfeiffer Beach in Big Sur.

Commitment is grittier and more audacious than Darin's previous work. From the counterculture anthem "Me and My Hohner" (with its ironic reference to "The Star-Spangled Banner") and the soul-searching "Sausalito" to the wryly autobiographical "Distractions (Part 1)" and the tense funk of "Light Blue," the album's experimentation and free-wheeling songcraft affirm Darin as a generational talent uniquely capable of crossing the borders of age and politics.


Tracklisting:

SIDE A
Me & Mr. Hohner
Sugar Man
Sausalito (The Governors Song)
Song for a Dollar
The Harvest
Distractions (Part 1)
Water Color Canvas

SIDE B
Jive
Hey Magic Man
Light Blue
Sweet Reasons
Maybe We Can Get It Together
Baby May
RX-Pyro (Prescription: Fire)

---
Share this Product
---