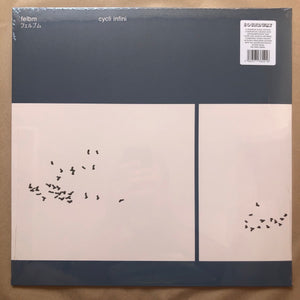 felbm
cycli infini: Vinyl LP
SNDWLP171
Regular price
£19.00
£0.00
Unit price
per
Tax included.
Shipping
calculated at checkout.
Label: Soundway
Release Date: 21st July
We love a record that transforms the space around you, that takes your mind to a new place, that also, quite frankly chills you to the core, it's a lovely thing when music works as an aid for your mind. That can sound like you're getting drab spa music but Felbm adds so much intrigue and wonder to his sound, loops and drones that return like a bird sound you heard on a holiday as a kid, the warmth of the digital and woody earthy pipes blowing through passages of this seamless continuous peace. It's a nice space, this record.
For those who dig: minimalist new age, drones, field recordings, Laraaji, Maxine Funke, The Vernon Spring, Resavoir, Los Days...
Dutch multi-instrumentalist Felbm returns with the conceptual album 'cycli infini' - a 38-minute composition of metamorphosing tape loops, musical patterns and instrumental sketches
Further exploring the concept is the vinyl release which features the track spread over both sides and cut to the end of each locked groove - creating an essentially never-ending piece that challenges the idea of the traditional listening process. The idea came to fruition by way of a lifelong interest and growing awareness of the cyclical nature of the world around him - be it through observing nature, or the mathematical and mind-bending works of Dutch artist MC Escher, or minimalist composers such as Erik Satie, Laraaji and Melaine Dalibert. "The openness of Laraaji's and Satie's music have also been an influence to create a certain softness and feeling of comfort, as I like this piece to be a place you want to revisit", says Felbm, real name Eelco Topper.
While Topper's previous releases on Soundway Records comprised series of short, individual sketches, on 'cycli infini' the tapestry is sewn seamlessly together using a step- like progression through the circle of fifths, which as the name suggests, brings the listener back to the musical key and soundscape at which they started. Should the full track be on repeat, it begins anew without being noticed.
The piece began life with a layer of drone loops using tapes and delay pedals, over which acoustic instruments such as flute, saxophone and bass trumpet would playfully but gently interpret a melody - toying with jazz, ambient, fourth world and percussive sounds. As the music evolves through the key progression, organic elements such as birdsong and wind chimes ground the piece in nature. Says Topper: "the never-ending metamorphosis of matter has always fascinated me, the idea that nothing ever really disappears and everything has already been here... just in different shapes."

Composed, performed & produced by Eelco Topper
Featuring:
Mark Alban Lotz: flute & bansuri Koen Boeijinga: saxophone
Efe Erdem: bass trumpet
Gijs Batelaan: pedal steel guitar
---
Share this Product
---