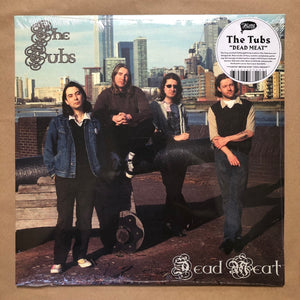 The Tubs
Dead Meat: Draig Goch Red Vinyl LP
TIM173LPC1
Regular price
£24.00
£0.00
Unit price
per
Tax included.
Shipping
calculated at checkout.
Label: Trouble in Mind
Release Date: 27th January
Mama mia the melodies on this record, let me gorge the living daylights out of it, the sweetness of harmonies, the instant zap of power pop, this record doesn't need heating up because it's already indie pop, pub rock and new wave fire. 
For those who dig: Joanna Gruesome, Ex-Void, good British Indie, Flying Nun Records, Television Personalities, The Wedding Present and this is a proper Trouble In Mind Record, so fans of the label will lap this up.
London band's debut album (after one 7" on Prefect, and a 7-inch EP on TiM/Prefect Records (UK)).

Feat. current/former mbrs of Joanna Gruesome, Ex-Void, GN, Sniffany & The Nits.

London group The Tubs return to Trouble In Mind with their hotly anticipated full-length album entitled "Dead Meat". The band were formed in 2018 from the ashes of beloved UK post-punk band Joanna Gruesome by former members Owen 'O' Williams and George 'GN' Nicholls. By incorporating elements of post-punk, traditional British folk, and guitar jangle seasoned by nonchalant Cleaners From Venus-influenced pop hooks and contemporary antipodean indie bands (Twerps/Goon Sax, et al).

"Dead Meat" is resplendent in hi-fidelity strum & thrum, incorporating fleeting elements of post-punk and indie jangle, but the group's penchant for trad British folk & Canterbury folk-rock takes a noticeable, caffeinated step forward. Echoes of Fairport Convention's decidedly English chime cross swords with singer Owen Williams' lyrics directing Bryan Ferry's "thinking man's libertine" persona into a more dolorous outlook. Many songs (like "Round The Bend" and "Duped") soar with an urgent strum under Williams' acerbic lyrics, recalling a younger fiery Richard Thompson. They languish in an aching, bitter resignation (of both the situations described & the protagonist's place in it), particularly near the album's second half. Others like the previously released "I Don't Know How It Works", "Two Person Love" and "Illusion" (re-presented here as "Illusion Pt. II" and all rerecorded from their original 7-inch versions) up the urgency, implying that the journey for the person described in each tune is not over & may be even more desperate than before. The band has never been tighter & more dynamic, often imperceptibly ratcheting up the tension, an extra guitar strum overdubbed, a barely audible organ/synth cranking under a chorus or bridge, or unexpected backups from current Ex-Vöid (and ex-Joanna Gruesome) vocalist Lan McArdle. The Tubs are poised to take over your stereo - there's no point in resisting.

Track listing:
1. Illusion Pt. II
2. Two-Person Love
3. I Don't Know How It Works
4. Dead Meat
5. Sniveller
6. Duped
7. That's Fine
8. Round The Bend
9. Wretched Lie
---
Share this Product
---