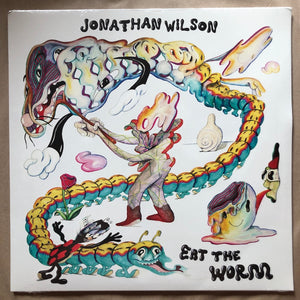 Jonathan Wilson
Eat the Worm: Double Vinyl LP
4050538912838
Regular price
£27.00
£0.00
Unit price
per
Tax included.
Shipping
calculated at checkout.
Label: BMG
Release Date: 8th September
Jonathan Wilson is dead good at twisting artists knobs, he's been meddling with Father John Misty's for years and honing one of the lushest, texture and deepest sounds in the game - timeless, attention grabbing but always ambitious. He's taken that need to push what can be done in the studio on his brand new record. It's a big old record that sounds like what maybe the Beatles would've sounded like if they went to the West Coast, did that album with Nilsson rather than bailed.
"A lot of this batch of songs is a reaction to the production stuff that I do," says Jonathan Wilson of his new album Eat the Worm.
"It began to dawn on me: a lot of my friends and people that I really admire, when they get in the studio, they get much more conservative…. Sometimes you've got to take chances and resist the urge to dumb things down to the kind of humdrum album we've all heard. It's got to be kind of strange."
To that end, Wilson gave himself plenty of time to let the songs unfold over the course of the last two years. Having his own Fivestar Studios in Topanga Canyon, California also allowed him to devote as much time as he wanted to fine-tuning the tracks.
"There's a lot of experimentation, and almost none of the songs started as me with a guitar. I really wanted something that sounded fresh and new."
---
Share this Product
---