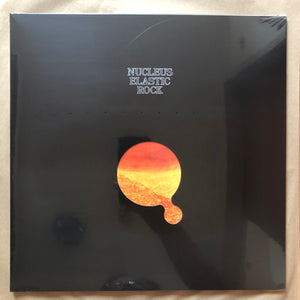 Nucleus
Elastic Rock: Vinyl LP
BEWITH125LP
Regular price
£25.00
£0.00
Unit price
per
Tax included.
Shipping
calculated at checkout.
Label: Be With
Release Date: 26th May
Be With continue to mine Ian Carr's Nucleus catalogue and with 'Elastic Rock' we go right back to the start with the band's 1970 debut, It's a bit ridiculous that this is a debut because it's Jazz Rock fusion early doors, from a band that sound like they're deep into the game, rich with notes of British folk and jazz, it's got a rocking boogie with breaks at points, a laid back and warm deep funk but also has this thunderous doomy rock that ventures on Sabbath too. 
2023 reissue, 140g vinyl, remastered from the original Vertigo Master Tapes for this edition by Simon Francis, original gatefold die-cut sleeve replicated in fine detail

Nucleus's Elastic Rock is undisputedly a milestone in Jazz-Rock. A beautiful and vital debut album, it was first released on Vertigo in 1970. Original copies are now very tricky to score and, like all the Nucleus records, it's aged ridiculously well. This Be With re-issue, re-mastered from the original analogue tapes, shows off just why this deserves to be back in press.

Genius trumpeter and visionary composer Ian Carr was one of the most respected British musicians of his era. He was a true pioneer and saw the potential in fusing the worlds of jazz with rock, just as Miles Davis and The Tony Williams Lifetime did in the US. In late 1969, following the demise of the Rendell-Carr quintet, and tiring of British jazz, Carr assembled the legendary Nucleus. Regarding music as a continuous process, Nucleus refused to "recognise rigid boundaries" and worked on delivering what they saw as a "total musical experience". We can get behind that.

Under bandleader Carr, Nucleus existed as a fluid line-up of inventive, skilled musicians. This constant evolution and revolution was all part of the continuous musical exploration and discovery that took jazz to new levels. And the music has kept relevant. To steal a line from a review of our re-issue of Roots, when it comes to anything Nucleus "it's basically already hip-hop".

The very title Elastic Rock could be regarded as the group's MO, describing a melting point between their rock and jazz impulses. Indeed, housed in a memorable gatefold jacket designed by Roger Dean, the die cut molten teardrop shape on the front sleeve opens to reveal a fiery volcanic crater. On the back, Dean's drawing has Carr with saxophonist Brian Smith, guitarist Chris Spedding, drummer John Marshall, bassist Jeff Clyne and sax, oboe and pianist Karl Jenkins in a circle, the central core of a movement and the basis for its activity.

Recorded over four days in January 1970, Elastic Rock didn't sound like any other British jazz album. Exploding out the gate, "1916" opens with Marshall's frantic pounding before melancholic horns enter. The smooth title track, "Elastic Rock" is just a gorgeous electric blues track. Light drums, gentle melodic horns, piano and a solid bassline serve as the perfect bed for Spedding's graceful bluesy guitar melodies. The serene "Striation", a Clyne and Spedding collaboration, is led by bowed bass and is the epitome of calm before the late night laid back vibe of "Taranaki" breezes along sweetly and smoothly with great trumpet and tenor.

The truly emotional "Twisted Track" is elegant with horns, while guitar is gently played with drums and bass. Initially deeply soothing, it gradually builds with various solos and duets. "Crude Blues (Part 1)" features an excellent oboe part by Jenkins with laconic guitar helping out. "Part 2" is livelier, with a heavy backbeat and great wind parts. "1916 (Battle Of Boogaloo)" features a steady bassline and great call and response parts from the horn section.

The highly-charged centrepiece of the record, the mesmeric epic "Torrid Zone" features an hypnotic bassline and hi-hat with some of the ensemble's best soloing. Brilliantly encapsulating the jazz fusion aesthetic so desired by the group, the rhythm section is rock-influenced but magically retains a laid-back jazz vibe. Just perfection. Spacey jazz in the style of In a Silent Way, the semi-ambient "Stonescape" features smooth, muted brass, warm, smokey keys and a barely-there rhythm section. Heavenly.

The bubbling, fragile restraint of "Earth Mother" partially utilises the "Torrid Zone" bassline but takes the energy in a different direction with Marshall's frenetic drumming and Spedding's unpredictable riffing. Next comes the very idiosyncratic drum solo track by Marshall in the appropriately-titled "Speaking for Myself, Personally, in My Own Opinion, I Think." The album closes with the raucous "Persephones Jive", a track that ends the album frantically, riotously, just as it began.

This Be With edition of Elastic Rock has been re-mastered from the original Vertigo master tapes, Simon Francis' mastering working together with Cicely Balston's cut at AIR Studios to weave their usual magic with these wonderful recordings. The stunning die-cut gatefold sleeve has been restored in all its molten glory.

* Tracklist:
A1 : 1916 (1:11)
A2 : Elastic Rock (4:05)
A3 : Striation (2:14)
A4 : Taranaki (1:38)
A5 : Twisted Track (5:19)
A6 : Crude Blues (Part 1) (0:54)
A7 : Crude Blues (Part 2) (2:38)
A8 : 1916 (The Battle Of Boogaloo) (2:58)
--
B1 : Torrid Zone (8:41)
B2 : Stonescape (2:39)
B3 : Earth Mother (5:15)
B4 : Speaking For Myself, Personally, In My Own Opinion, I Think… (1:31)
B5 : Persephone's Jive (2:14)
---
Share this Product
---