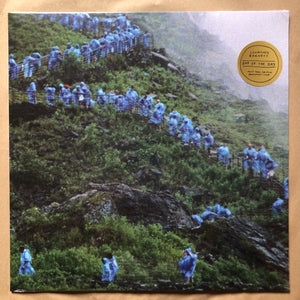 Courtney Barnett
End of the Day (Music From the film Anonymous Club): Milky Clear Vinyl LP
LPMP709C
Regular price
£27.00
£0.00
Unit price
per
Tax included.
Shipping
calculated at checkout.
Label: Mom + Pop
Release Date: 8th September
Courtney Barnett's most intriguing work yet, her distinctive voice is left to the film doco of her life that this music is soundtracking. It's an ambient guitar piece, it's soundscapes carefully and delicately weaving through candid and personal narrative but stood alone it's one of the most beautiful instrumental records you'll hear all year.
Anonymous Club is Danny Cohen's candid documentary about the personal travails and hard-fought triumphs of Courtney Barnett, as she rose through the ranks of indie rock during the last decade.

A cautiously redemptive portrait, any happy ending reflects the possibilities of fulfillment and stability, not the things themselves. In May 2021, months before the film's release, Courtney Barnett and collaborator Stella Mozgawa rendezvoused with Cohen in Melbourne to shape a score that fit that premise--nothing too obvious or instructive, to tell the audience how they should feel. Barnett found she liked listening to what the duo had made, existing within its reflective gaze. She began sorting through those little instrumentals like amoebic puzzle pieces, figuring out how they fit into a full picture. The result is a seamless series of 17 instrumental improvisations called End of the Day: Music from the Film 'Anonymous Club', soundtrack reimagined as impressionistic sound-art collage. Like Barnett's rock songs, they wordlessly ask hard questions of our softest parts, wondering what it is we really find there.
---
Share this Product
---